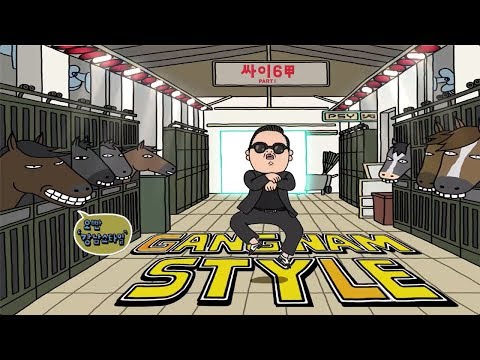 Pop Video and Dance Craze Rocking the Planet (VIRAL VIDEO)
Skippy Massey
Humboldt Sentinel
There's a strange pop song and dance phenomeon breaking big outside the Redwood Curtain.
Gangnam Style.
How big is it?  Ridiculously big.  The above video had over 500,000 hits on the first day, 500 million hits in the last three months, and Guinness World Records noted it's the most "liked" video ever in YouTube history with over 1 billion views.
That's some play.  We don't know why.  You try figuring out how the world works.  It just is.
South Korean rapper Psy's (whose real name is Park Jae-Sang) highly-contagious horseriding butt-shaking hit first uploaded back in July.  It's taken off like a rocket ever since.  Everywhere.
For the uninitiated, Gangnam Style refers to a lifestyle
associated with the upscale Gangnam district in Seoul,
South Korea, where people are trendy, cool, and hip.
Psy likened the Gangnam District to Beverly Hills, saying he intended a twisted sense of humor by claiming himself to be "Gangnam Style" when everything about the song, dance, looks, and the music video is far from being high class.  He also wanted to make a sarcastic jab about mindless consumerism.
"Dress classy and dance cheesy," he explained.
The Gangnam Style video shows Psy performing his comical and highly-contagious dance moves with a catchy beat at unexpected locations around the Gangnam district.
Psy had said the lyrics are about a perfect girlfriend who knows when to be refined– and when to get wild.
Ouchie-wow-wa.  That's our kind of gal.
 
To date, there are more than 5,000 parody music videos online.  Gangnam Style has been nominated for Best Video for the upcoming 2012 MTV Europe Music Awards in Frankfurt, Germany, on Nov 11.
Everyone's done a take on the song– ranging from clubs to dance groups to flash mobs to different militias and countries throughout the world.  Even North Korea got into the act putting their isolated country onto the same page with their own version.
Indeed, Gangnam Style fever is such a pop phenomenon that United Nations Secretary-General Ban Ki Moon, a fellow South Korean, hailed Psy as "a force for world peace."
Perhaps that's a bit over the top, but folks are certainly enjoying it– while looking ridiculously silly and having fun.
Psy's response?  "I'm glad people have chosen my song and decided to celebrate throughout the world," he humbly acknowledged.
There more than several thousand versions of Gangnam Style videos out there.  We'll spare you those.
But to give you an idea of what's happening here, we have the best three videos we liked below:
 
The United States Naval Academy Midshipmen  (other branches have their versions, too)

Those kids at  England's upper crust and almost-royal school, Eton

And our favorite, the  University of Oregon Ducks
There's also the Obama Style and Romney Style riffs, depending upon whom you prefer.  If you haven't had your fill yet, check out Billboard's Top Ten List of Gangnam Style parodies.
Like most pop culture fads going the way of the Macarena, this too will pass.
Thank Goodness.  But in some strange twisted act of fate, YMCA will stay.
Pass this link on so everyone can stay trendy, cool, and hip.  Or at least know what's been going on lately.  That is, after we learn the wickedly stupid dance moves.
We might live behind the Redwood Curtain but we can still see what's up in the world even if we can't explain it.  Besides, we need the views.
(Posted by Skippy Massey)