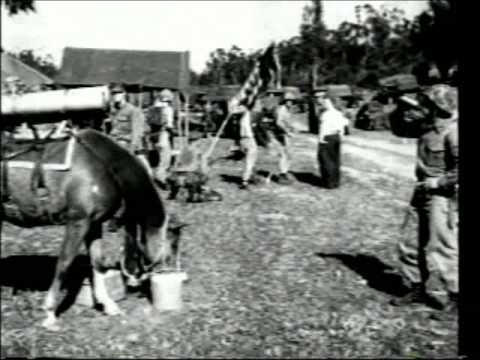 A Veteran Horse Hero You Never Knew Of 
(VIDEO)
Skippy Massey
Humboldt Sentinel
You've heard of the famous racing ones:  Seabiscuit,
Secretariat, and War Admiral.  But there's one horse–
a military hero– that you haven't heard.  It's the story of
Reckless, the little chestnut Mongolian mare.
Reckless was a pack horse during the Korean War and she carried recoilless rifles, ammunition and supplies to Marines.  This by itself wasn't too unusual; lots of animals were pressed into service doing pack chores in many wars before Korea.
But Reckless did something more.
During the battle for a location called Outpost Vegas in 1953, this mare made 51 trips up and down the hill.  On the way up, she carried ammunition.  On the way down, she carried wounded soldiers.
 
What was so amazing about that?
She made every one of those trips without anyone leading her.  Relentless artillery rounds fell around at her at the rate of 500 per hour.  The fighting was so intense that only two men made it out alive without wounds.
We can imagine a horse carrying a wounded soldier, being smacked on the rump at the top of the hill, and heading back to the "safety" of the rear.  It's harder, though,  to imagine the same horse loaded down with ammunition trudging back to the chaotic battlefield under enemy fire and exploding heavy artillery. 
Making 51 of those trips in the blazing battle is unheard of.  How many horses would even make it back once, let alone return to the soldiers in the field?  Reckless did it without fail, every single time, on her own.
Reckless walked 35 miles  and carried 9,000 pounds of equipment that day, and while exhausted and wounded twice, she kept her duty transporting the wounded faithfully throughout.  Many men survived because of her fearless actions.
 
She became a national hero, covered by Life magazine and the Saturday Evening Post.  She was promoted by the Marines
to the rank of Sergeant and later, Staff Sergeant, in her
career.
After the Korean War, Reckless was brought back to the United States in 1954.  She retired at the Camp Pendleton Marine Corps Base in 1960 where her commanding General issued the following order:  "She was never to carry any more weight on her back except her own blankets."
Reckless died in 1968 at the age of 20 as a full-fledged Marine with full military honors. 
Reckless' decorations included two Purple Hearts, Good Conduct Medal, Presidential Unit Citation with star, National Defense Service Medal, Korean Service Medal, United Nations Service Medal, and a Republic of Korea Presidential Unit Citation, all of which she proudly wore on her scarlet and
gold blanket.
She was quite a courageous and hardworking gal, fondly looked after and loved by her unit.   Lieutenant General Randolph M. Pate reminisced later:
"I first saw this little lady when the First Marine Division was in reserve for a brief period.

I was surprised at her beauty and intelligence, and believe it or not, her esprit de corps. Like any other Marine, she was enjoying a bottle of beer with her comrades.

She was constantly the center of attraction and was fully aware of her importance.  If she failed to receive the attention she felt her due, she would deliberately walk into a group of Marines and, in effect, enter the conversation.  It was obvious the Marines loved her."
There's a great deal more to the story of Reckless.  If you'd like to read more of her amazing and forgotten story here's the best and detailed article that we could find, located in the Marines Leatherneck magazine archives  of 1992.
It's a very good read.
Please feel free to  pass this story onto others–  fellow Veterans, friends, and equestrians.
* * * * * * * * * *
Thank you for your service, Veterans.  This story is for you– and to veterans Patrick, James, and Jacob of Medford.