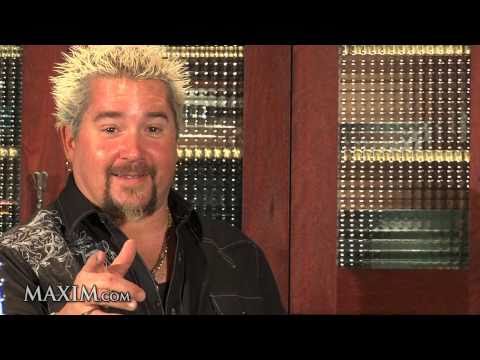 From Cream City Donuts to the Big Apple Fritter
Skippy Massey
Humboldt Sentinel
You know Guy Fieri.
The spiky-haired, flip-flop and shorts wearing 44-year-old Food Network star who travels the nation in search of the best greasy spoons for his show Diners, Drive-Ins, and Dives.
Owner of several restaurants like Johnny Garlic's and Tex Wasabi's, the casual and laid back Ferndale native has done well on the culinary road to fame, coming a long ways since his youthful days of growing up in Humboldt's Cream City.
When he was young, Guy panhandled quarters from local passerby to buy the overwhelmingly delicious donuts from the local Ferndale baker.  When the money supply eventually dwindled out over time, he came up with a different idea:  He put his younger and cuter sister out on the sidewalk to beg for quarters instead, giving him the money so he could buy more donuts.
When those quarters also began to dwindle, Guy came up with an even better and brilliant idea.  He robbed a bank.
He held up Ferndale's Bank of America with a toy gun and demanded… quarters.  It was a sugary-glazed crazy kind of idea only a kid could dream up.
The bank manager came out, promptly took young Guy aside, confiscated his plastic weapon, and called his mother.  Mom came down, picked up the young would-be-robber-for-tasty-treats, and admonished him appropriately.
Enough was enough, Mom thought, and she took it one step further from ever happening again.  She went down to the pastry shop and gave the baker a crystal-clear directive:  "No more donuts for Guy.  Cut him off from all the donuts now.  He isn't to buy any more.  Period."
Guy's donut caper came to an end with both a flambé finish and fizzle.  That's the story told to us on good authority by the Ferndale blacksmith, anyway.
Thus, a great star was born.  Humboldt's beloved Guy Fieri started a pretzel cart in Ferndale, got himself off to culinary school, started some great eateries, won the Food Network audition, and became nationally famous foodie— and the rest is history.  Guy's been on an uphill swing ever since.
But alas.  There's big trouble in Flavor Town, folks.  All is not going well for Guy in the Big Apple.
Guy's recently opened New York City restaurant, Guy's American Kitchen & Bar, was viciously scorched by the New York Times in a burning review published a few days ago.  Some are calling it the Big Apple Bomb.
"Why is the kind of cooking you celebrate on television . . . treated with so little respect at Guy's American Kitchen & Bar?" food critic Pete Wells scathingly wrote of the Triple D host's venture in Times Square.  Wells sniped:
"GUY FIERI, have you eaten at your new restaurant in Times Square?  Have you pulled up one of the 500 seats at Guy's American Kitchen & Bar and ordered a meal?  Did you eat the food?  Did it live up to your expectations?"

"Did you notice that the menu was an unreliable predictor of what actually came to the table?" 

"Were you struck by how very far from awesome the Awesome Pretzel Chicken Tenders are?  If you hadn't come up with the recipe yourself, would you ever guess that the shiny tissue of breading that exudes grease onto the plate contains either pretzels or smoked almonds?  Did you discern any buttermilk or brine in the white meat, or did you think it tasted like chewy air?"
Ouch.  These NYT food highbrows don't mess around.  They mean business.  And they can be sharply to the point.
Wells writes that the watermelon margarita "glows like nuclear waste" and "tastes like some combination of radiator fluid and formaldehyde."
He describes the fried calamari as "a plate of pale, unsalted squid rings next to a dish of sweet mayonnaise with a distant rumor of spice."
The critic adds that the eatery manages to "mess up" nachos. "Why augment tortilla chips with fried lasagna noodles that taste like nothing except oil?"
"Does this make it sound as if everything at Guy's American Kitchen & Bar is inedible?  I didn't say that, did I?"  Wells opined, praising the "appealing main dishes" marred by "ruinous sides and sauces."
Holy moly, Stromboli.  "The sauce is money," Guy always told us.
Bemoaning the cold french fries, vegetable sides that taste "deadened" and "overcooked" like "school cafeteria vegetables," and toasted marshmallow that "taste like fish," critic Wells gave the eatery a "poor" rating with a "chaotic" atmosphere.
Without mincing words, he added of the service:  "The well-meaning staff seems to realize that this is not a real restaurant."
Double ouch.
We're familiar with these New York City types.  You better be who you say you are.  If you claim to be a baker, for example, you better be a proven, skilled, and damned good baker able to deliver the goods every time– or you won't be in business long.  The same goes for a chef or any other professional.
New Yorkers don't tolerate pretentions, assertions, casual complacency, or anything less than the genuine article.  Brutally honest and equally abrasive in a New York minute, they take their food seriously
and will tell you about it, in your face.
If it ain't Gotham magic, it's tragic.
Guy responded to the searing review last Thursday.
"I just thought it was ridiculous," the host said.
"I've read reviews.  There's good and there's bad in the restaurant business," Fieri explained.  "That one went overboard."
Fieri charged that Wells "came in with a different agenda."
"I've been in the restaurant business 25 years.  Do we do it perfect?  No.  Do we strive to do it perfect? Yes," he said.
"Do I think I've fallen short?  By no means.  But do we make mistakes?  Absolutely."
"People see me as a TV guy.  I'm really a chef," he added.
We hope so.  We love our own local donut and pretzel boy gone good.
Those New Yorkers are a tough bunch with pretty high standards.  And not the type of high that Humboldt County gets away with in its sloppily haute cuisine. 
They need to know that Guy Fieri isn't simply a passenger going along for the ride.  He drives that bus home to Flavor Town.
*  * * * * * * * *
You can read the full scathing, boiling, and humorously seething New York Times food review here.