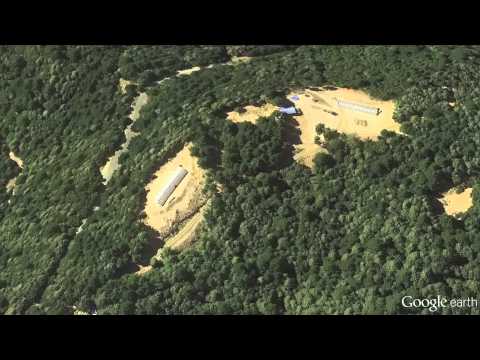 Posts Google Earth Cannabis Video For All to See
Skippy Massey
Humboldt Sentinel
This just came over the news wires an hour ago:  an aerial tour of Humboldt County's marijuana plantations called the 'Green Rush Google Earth Tour' posted on YouTube.
Made by the Humboldt State Institute for Interdisciplinary Marijuana Research, illicit or legal marijuana cultivation in the Emerald Triangle is now out there for all to see in concise and easy pinpoint fashion. All in the interests of scientific research, of course.
The HSU Institute advised about the silent, 4-minute video documenting the location of grows from the air:
Best viewed with a good Internet connection at 1080p (gear icon) and full screen.   The red dots represent over 600 grows, but are not a complete data set.

For more information about this research project and the Ecological Impacts of the marijuana industry, contact the Humboldt State Institute for Interdisciplinary Marijuana Research at (707) 826-3142.
The grows are prolific, large, and exposed.  There does appear to be significant building, grading, non-permitted road and structure construction, and environmental degradation from the few representative samples shown.
Taken using GPS coordinates and pinpointed with red dots, you may want to see if your bud farm was photographed and exposed– or that of your neighbors.  If so, you may want to start harvesting your weed if you haven't already done so, and begin some squeaky-clean sweeping and mopping up operations soon.  And start being environmentally responsible.
The question may be:  do law enforcement or the Feds know about this?
Undoubtedly and unequivocally so.  If we found it, they already did long ago.  Seeing as how the HSU marijuana research group posted their clip on YouTube today– and it's now making the news wires in a high profile, public, and nondiscretionary sort of way– we'd have to say, 'Yes.'   And we were probably the last ones to find out about it.
This is the same group inviting Humboldt County's pot growers to talk to them so they could "collect data" and "conduct research" to assess how much impact the marijuana industry has.
The HSU marijuana institute says their mission and objectives are to:
Create a high-profile Institute within Humboldt State University for the purpose of providing marijuana policy analysis…  Serve as a clearinghouse of marijuana related research engaging in the.. collecting, analyzing, and disseminating of data to the public and to policymakers …and collaborating with institutions and agencies.

…To improve the economic, social, physical, and environmental health of individuals and communities through the scientific study of marijuana.

(We) design, conduct, analyze, and disseminate research… to policy makers, researchers, health professionals, businesses, and the media.
We surmise the Institute will be addressing this video
and the information they gathered at their upcoming seminar November 27 at HSU.
There is no privacy in this age of technology.  Or trust.  What's in your backyard?
* * * * * * * * *
(Posted by Skippy Massey)