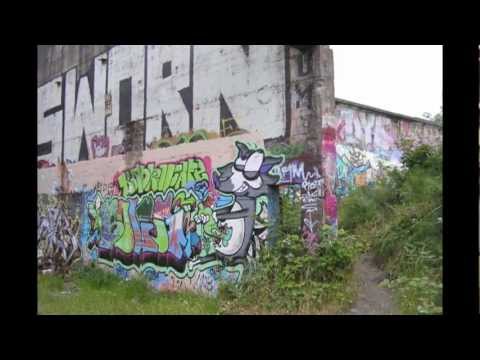 Behind the Bayshore Mall, Beauty and Tagging is in the Eye of the Beholder
(VIDEO)
Skippy Massey
Humboldt Sentinel
The concrete ruins behind the Bayshore Mall are a canvass of sorts for artists.  They paint and spray and tag the concrete in a variety of forms for an unknown audience.
The area has long been known for it's homeless encampments, supposed Satanic rituals, and being a junkie haven over the past three decades.  It's a No-Man's land, a spooky and apocalyptic place, especially come night time after the sun sets.
We found this 7-minute video posted today giving a tour of the place.  The description only read:
Somewhere in Humboldt County, California, on the bay in the city of Eureka, lies this hidden derelict of a graffiti collection.  Crazy walk to, get to, and crazies along the way – the good homeless kind!

All photos by Snaps Provolone in July 2012.  Music by J Starr: "Interstellar Mode."
Beauty is in the eye of the beholder.