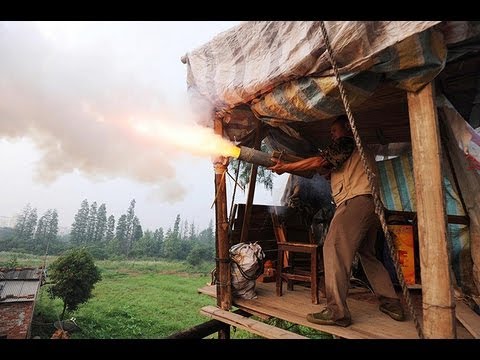 Land Grabs and Self-Immolation
(VIDEO)
Skippy Massey
Humboldt Sentinel
Sometimes we carry interesting videos of interesting news 
wherever we find them.  This is one of those.
In China Uncensored, host Chris Chappell often criticises
human rights abuses in China.  In this episode he explains why the Chinese
government doesn't allow its citizens to own guns:  they'd be able to fight back.
Guns and foreclosures don't mix.  And neither do homemade fire launchers.
Forced evictions in China are on the rise as corrupt officials seize land from homeowners while offering little in the way of compensation.  The results are what are called "nail houses," solitary homes left sticking out of construction sites like giant nails.
Losing land and homes under increasing Chinese 'eminent domain' land grabs, former landowners have been beaten, bulldozed, and carted off to jail.
The landowners have fought back in desperate, if not sorrowfully pathetic, ways:  41 cases of self-immolation, homemade cannons, and even creating an online video game of their plight.
They gave up on their courts, lawyers, and due process long ago.  You can't fight City Hall.
Or the Chinese government.
* * * * * * * * * *
We haven't quite reached this breaking point, but we have some similarities in the Land of the Free.
The US Supreme court in "Kelo vs. City of New London" (2005) ruled that its perfectly fine for the government to steal land, then immediately sell it to land developers for the purpose of increasing property tax revenues.  You know, 'eminent domain', but with a twist.
(Posted by Skippy Massey)