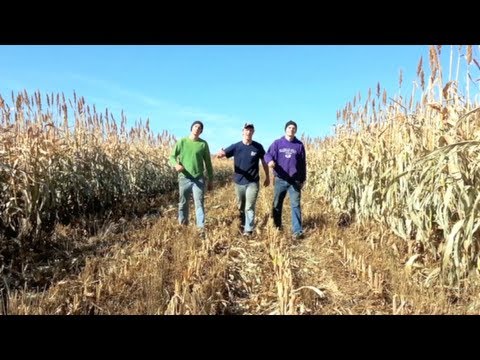 American Gangnam Style:  "Thank the Farmers"
(VIRAL VIDEO)
–Updated Below–
Skippy Massey
Humboldt Sentinel
Just when we were getting tired of the Gangnam Style parodies, a good one rises to the top like cream in our milk catching our Humboldt attention:  the beauty and spirit of the American farming family.
This is by the Peterson Farm brothers– Greg, Nathan, and Kendal– promoting agriculture and reminding us to thank the American farmer for their hard and honest work.
When Greg Peterson went home from college to his family's fourth-generation farm near Assaria, Kansas, Peterson talked his kid brothers, Nathan, 18, and Kendal, 15, into singing and filming a video of the three of them together, rapping their farming mission on the family's Saline County farm.
Their sister, Laura, helped shoot some of the video from the break of
the dawn, as the brothers buck hay, feed cattle, drive combines and tractors
until sunset.  Mom and Dad are in it, and even Grandma had a say.
"I have a hard time understanding all this electronic stuff," says Eunice Peterson, the brothers' 88-year-old grandmother.  "But it is all very exciting. I am thrilled for the guys."
"My brothers thought it was funny," Greg Peterson said. "We all like rapping."
True to the farm experience, the Peterson brothers worked 15-hour days cutting wheat and feeding the cattle in the midst of shooting the video.
"We started halfway through wheat harvest and I got them up at 6 a.m., they were so mad at me and thought I was so stupid," Greg Peterson said of the scenes in the video.  "I told them to just trust me. … The reason it is so silly is we were so tired."
The video has since gone viral with over a million hits.  "It's definitely been a dream," Peterson said.
It's also been the dream for all three brothers to work together farming.  "When we were little kids, we'd all play with our toy tractors," Greg Peterson noted.  "We'd farm together with our tractors on the carpet.  The dream was we'd all farm together with Dad."
Making videos on the side when not working the family farm, the Petersons ask you share this video with farmers and friends everywhere.  We thought our local farmers, ranchers, dairymen, fishermen and food producers deserve equal merit for what they do, too.
Because we're proud of our own, this is for you, Humboldt.  Please pass it on.
Update:   America seems to love the message given the more than 8 million additional views the video has received since our column first posted.
If you liked it, you may enjoy seeing the Bros' behind-the-scenes 'Farmer Style' Outtakes– the making of the video.  Working and playing on the farm, Peterson style.
Some of the Peterson's 'Farmer Style' licks:
We are the Peterson Farm Bros, and we're farming and we grow it
We love agriculture, and we want the world to know it
Farming is a way of life with many different flavors
Being stewards of the gifts God gave us
Out here on the farm,
We're running green John Deere Tractors
Out here on the farm,
We work in many weather factors
Out here on the farm,
We're working hard to raise your food
Out here on the farm.  On the family farm.
Agriculture, is so important to me, (and should be to you) HAY!
It feeds the world and will never ever cease to be, We need to eat!
We all need farmers to provide us with our food, food, food, food!
Workin' farmer style.
Farmer Style
Work, work, work, work, working farmer style
Haaaaaaay, for my cattle
Work, work, work, work, working farmer style

Haaaaaaay, from the field
Work, work, work, work
Farmers are working harder than you might imagine
But that is just because we have a job that is our passion
We will work sunup to sundown time and time again
As if working for the Lord and not for men
Out here on the farm
We get away from lights of cities
Out here on the farm
The countryside is nice and pretty

Out here on the farm.
We work together as a family.
Out here on the farm.  On the family farm.
Workin' farmer style
Hay, hay, hay, hay
Is what we feed our cattle
So they grow big and strong
And then become the food that keeps us living nice and long.
Our crops like corn and wheat
Help make diets complete
Without the farmers working
We would all be starving
You know what I'm saying?
Workin' farmer style
Hey, hey, hey, hey, hey, hey
Hey, thank the farmers!
Hey, for your food!