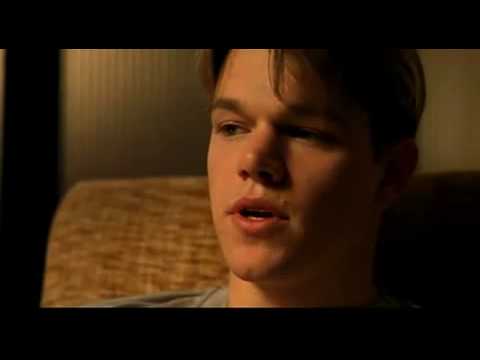 –Shocking Testimonial in RT News:  Your Mail is Being Taken and Recorded 
(VIDEO)–
Skippy Massey
Humboldt Sentinel
Good Will Hunting's Matt Damon got it right 14 years ago.
A formerly high-ranking member of the National Security
Agency (NSA) claims digital privacy has become a freedom
of the past.
"The FBI records the e-mails of nearly all US citizens, including members of Congress," NSA whistleblower William Binney reaffirmed recently.
In a 2011 New Yorker article, the former NSA employee said that the NSA had begun storing billing and phone records from "everyone in the country."  Since then, the collection of e-mails has broadened significantly.
"What I've been basically saying for quite some time, is that the FBI has access to the data collected, which
is basically the e-mails of virtually everybody in the country," Binney
said in his interview Tuesday with the Kremlin-funded news outlet

Russia Today (RT).
In the interview with RT, he warned that the government can use this information against anyone– and he suspects it's what brought down CIA Director General David Petraeus by having his private e-mails read by the FBI.
According to the New American magazine, Binney stands among a number of
other former officials who have testified against the NSA, exposing a series of
controversial methods that could put an end to the agency's post-9/11
domestic surveillance campaign.
Binney, one of the best mathematicians and code breakers in the history of the National Security Agency, resigned after observing countless acts of what he determined to be blatantly illegal methods to spy on the American people.  He recently received the Callaway award this year, an annual prize that recognizes those who champion constitutional rights and American values at great risk to their personal or professional lives.
New American reporter Brian Koenig wrote about Binney today:
One effort he (Binney) deemed unconstitutional was the use of a technology referred to as "Naris," which the NSA uses to aimlessly harvest e-mails and other digital information without having to receive permission from providers.  Binney testified that all congressional lawmakers are being monitored as well.

"They are all included," he said, "So, yes, this can happen to anyone.  If they become a target for whatever reason — they are targeted by the government, the government can go in, or the FBI, or other agencies of the government, they can go into their database, pull all that data collected on them over the years, and we analyze it all.  So, we have to actively analyze everything they've done for the last 10 years at least."

In his interview with RT, the intelligence analyst further emphasized that the FBI does not filter e-mail messages but obtains and stores all of a person's e-mails, and when he or she becomes a target, their entire records are extracted and analyzed for the desired information.

"I don't think they are filtering it," Binney asserted.  "They are just storing it.  I think it's just a matter of selecting when they want it.   So, if they want to target you, they would take your attributes, go into that database and pull out all your data." 
Koenig continues to say that although the government's domestic surveillance efforts are still officially secret, Supreme Court Justices Samuel Alito, John Roberts, and Sonia Sotomayor have criticized them, and the Senate Judiciary Committee has affirmed support for increasing consumer e-mail privacy.
The overall theme represented in Binney's testimony seeks to protect the freedoms and liberties granted to Americans under the U.S. Constitution.
"The central (U.S.) government defines what is right and wrong and whether or not they target you," Binney concluded.
"They are violating the foundation and Constitution of this entire country … and they are not living up to the oath of office."
Indeed.  Binney's revelations are shocking.
George Orwell was right.  1984 and Big Brother are here.
You can read the full RT article here.
The video interview of William Binney is here.
The New American article is here.
* * * * * * * * * * * *
Who knew Joseph McCarthy was such a visionary?
Or that the Pentagon needed a new spy agency to keep pace with the NSA– and 11 other US spy agencies– following the downfall of CIA Director Petraeus.
(Posted by Skippy Massey)