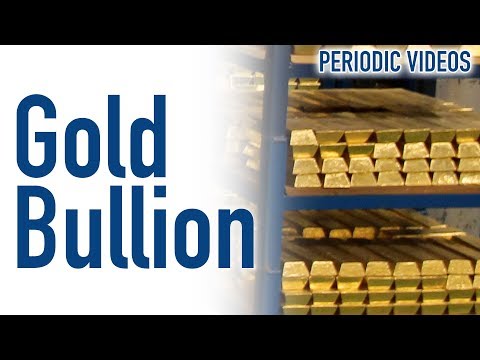 Bank of England Bares All for Chemistry Teacher
(VIDEO)
Skippy Massey
Humboldt Sentinel
The United States refuses to open up its gold vaults for
public viewing or inspection.  The last time it happened
was in 1974 for a member of Congress.  The last audit
of the nation's gold was in 1953.
Last year, as part of their coverage of Rep. Ron Paul's inquiry into the gold reserves, CNBC was denied the opportunity to even film any of the gold in Fort Knox.  They were told that it was a "closed facility." 
The Bank of England, however, is a different story.
The Bank of England is custodian to the official gold reserves of the United Kingdom and many other countries.  The vault, situated beneath the City of London on Threadneedle Street, covers an
immense floor space and uses keys that are three
feet long to open.
One of largest custodians of gold reserves and the second largest gold repository in the world, the Bank of England holds around 4,600 tons of the shiny precious metal stored in concrete-lined rooms.  The walls themselves are bombproof and were used by bank staff as air raid shelters during World War II. 
Stacked on shelves like a scene from an Indiana Jones film, the glittering nest egg– piles upon piles of 28 pound, 24-carat gold bars– is kept safe for reassured viewing by University of Nottingham chemistry professor Martyn Poliakoff in the above clip released a few days ago.
These gold deposits were estimated in February to have a current market value of £197,000,000,000– or, in US terms, $315 Billion dollars.
In these uncertain international economic times countries have been increasing their gold reserves.  Most notably, China has been moving away from a weakening U.S dollar in order to defend itself from falling victim of a deepening crisis.
Many believe gold will continue to surge as long as the Federal Reserve keeps interest rates near zero and neglects to support the dollar.  Today gold is a bit over $1,700 per troy ounce.  A year ago it stood at around $1,540.  In 2010, it hovered around $1,400.
Meanwhile, the US Federal Reserve takes a different course.  It 'leases' out its gold—calling it rehypothecation— allowing brokers to 'borrow' it on paper consignment and lending it out multi-fold to others for use as collateral.  Rehypothecation allows the Fed to multiply phantom profits for its bankers through a Ponzi scheme of epic credit proportions reminiscent of the Savings and Loan meltdown of the 1980s.