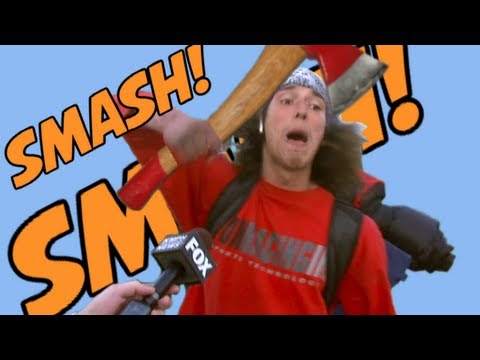 "Dude, that Guy was Fucking Kooked Out!  Smash, Smash, Smash!"
(VIRAL VIDEO)
Skippy Massey
Humboldt Sentinel
Kai is a homeless hitchhiker.  He's being hailed as a hero
after saving a woman several days ago from the clutches of
the man who was giving him a ride — who suddenly crashed
his car into a utility worker, began spouting racist invectives,
and claimed to be the reincarnation of Jesus.
Kai was hitching a ride with 54-year-old Jett Simmons McBride, of Tacoma, Wash., when McBride decided to run his car into a black Pacific Gas and Electric (PG&E) worker in West Fresno.  With the worker was pinned against his utility truck, McBride hopped out of his vehicle and began physically pulling on the injured worker.
A local woman, Tanya Baker, witnessed the crash and tried to stop McBride from continuing his assault or leaving the scene.  That's when McBride reportedly grabbed her in a bear hug her while claiming to be Jesus Christ and uttering racist epithets.
"The guy just went crazy and was trying to pull the guy from underneath the car and the truck.  Then he gets in his car and tries to move the car… and we weren't going to let him do it," Baker told local Fox News affiliate KMPH.
Kai, the hitchhiker who was sitting in the car, saw McBride assault Baker– and sprang into action.
"Like, a guy that big can snap a woman's neck like a pencil stick," he told KMPH.   Kai grabbed his hatchet and battered the six-foot, 300-plus pound McBride with the blunt end, reportedly saving Baker's life.
"I fucking ran up behind him with a hatchet — smash, smash, smash!" Kai said afterwards.
When first responders arrived on the scene, the PG&E worker was rushed to the hospital with two broken legs.  McBride was also removed from the scene with non-life-threatening injuries and is now in police custody and booked into jail on suspicion of attempted murder.
Kai has become a minor internet folk hero of sorts; a person who didn't have to get invoved– but did so only because it was the immediate and right thing to do.
Kai said he wants to spread the love:
"Before I say anything else, I want to say no matter what you've done, you deserve respect, even if you make mistakes.   You're lovable and it doesn't matter your looks, skills, or age, or size or anything.  You're worthwhile—no one can take that away from you."
Since his interview with Fox affiliate KMPH went viral (below), there has been next to no news about Kai's current whereabouts.
A year-old video of the homefree celebrity strumming his ukulele on a British Columbia beach and in a music store surfaced, but that hardly provided any insight into the man behind the myth.
"He's kind of like a superhero," reporter Jessob Reisbeck said.   "He's impossible to get ahold of because he has no phone and he's this mysterious guy, but he has this hero status."
But Kai is still out there.  He recently said in a Facebook post:  "I'm sleeping in a hay field across I-99 from the chevron/days inn in Lathrope CA.  Do any, uh, new friends feel like sharing couchspace?"
Reisbeck managed to track Kai down yesterday not far from the site of the incident that made him a digital star.
"Shock and awe," Kai responded when Reisbeck asked him for his thoughts on his overnight fame.
But besides feeling a bit more loved by the Universe than before, Kai remains unchanged.
"He's just doing the exact same thing he's always done," Reisbeck said.  "Living a homefree
life, as he calls it."
* * * * * * * * *
Identifying with Humboldt, Kai has spent time wandering through and living in Eureka and in Arcata.
The interesting and must-see viral KMPH interview of Kai describing the incident is here.
The original KMPH newscast is here.
UPDATE May 16, 2013:  Kai is arrested for murder.