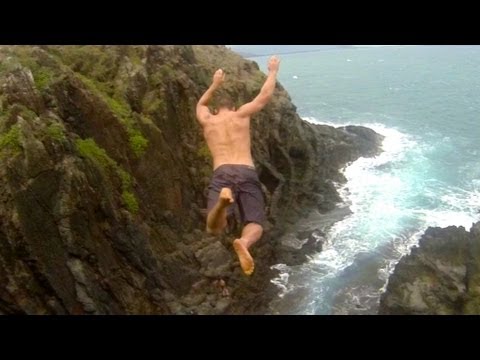 Be Scared and Be Prepared
(VIRAL VIDEOS)
Skippy Massey
Humboldt Sentinel
Utah native Devin Graham's video of people cliff jumping in Hawaii will mostly leave you wishing you were
there, though some moments– especially with the point of
view cameras– are a little stomach churning.
They deserve to be.
Cliff jumping or tombstoning sometimes makes the news, and unfortunately for all the wrong reasons.
Every summer, many youngsters severely injure themselves or die because they dive off rocks and cliffs – often inebriated – into waters of unknown depths and submerged obstacles.  Some are knocked unconscious; others drown.
We've had our fair share of accidents off Big Rock, Sandy Beach, Swimmer's Delight, and a host of other Humboldt jump spots.  It's a death wish of sorts if one isn't thinking about taking the fun jump halfway seriously and with a clear head.
Tombstoning, however, has a long tradition that goes back to ancient tribes – inhabitants of Easter Island or Hawaii, for example – that used cliff jumping as an initiation rite.  Tombstoning is done in such a way that the jumper enters the water from a very high point vertically straight, like a tombstone.  It was practiced with some degree of, well, let's just say institutional experience, the wisdom and experience and trepidation of those mentors and elders who went before you.  If you didn't listen to your elders, you were toast.  After all, these were the same guys who navigated thousands of miles across the ocean using only the stars and memory for a compass.
Instead of condemning the activity, we say go ahead and do it if you must– but do it wisely with someone who knows and has carefully checked out the lake, pond or ocean they're jumping into.  Or simply watch the older pros do it.
Heed your elders, Grasshopper, because there are plenty of cool cliff jumping and tombstoning sites all around to live and dive for.
These viral videos by Devin Graham are best seen at full-screen resolution.