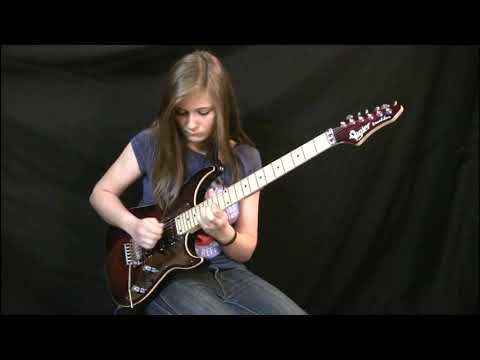 14-Year Old 'Tina' Tears It Up in Guitar Solo
(VIRAL VIDEO)
Skippy Massey
Humboldt Sentinel
Who is this girl?
She plays a wicked stick and slays a hard number.
Her name is known only as Tina S.  She's 14-years young and she rocks.
Five years ago, the guitar prodigy made a minor splash with her remarkably dexterous performance
of Ferdinando Carulli's Andante at the tender age of nine. 
She has since traded in her classical guitar for a custom Vigier Excalibur model, and ditched Carulli in favor of Van Halen.  Taught by teacher Renaud Louis-Servais who shot and posted the above video, Tina makes playing a cover of Eddie Van Halen's Eruption appear convincingly effortless while looking bored and seemingly unimpressed.
The Internet darling is also tearing it up on YouTube:  3 million hits in four short days.
That's all we know.  That's all anyone knows.  Well, What…ever.
You go, girl.  Everyone else keep practicing.