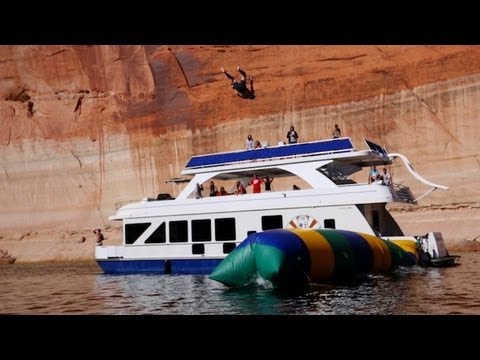 Launching Humans 50 Feet High
(VIRAL VIDEO)
Skippy Massey
Humboldt Sentinel
Remember:  for every action, there is an equal and opposite
reaction. 
And what goes up must come down.
Devin Graham visited Bullfrog Marina at Utah's Lake Powell filming this video with the the help of friends jumping from the top of a houseboat onto The Blob, sending some adventurous soul high into the air and then back down again with an amusing splat.
Below is the behind-the scenes-take of how it all went down.  It wasn't easy, there were accidents, and fat guy Matt is choice in both his comments and shameless plugs.
Please spread the word.  Share this– and all of our posts– with others, and friend us on Facebook and follow us on Twitter.  We appreciate and thank you for reading, and for giving us a little push in the right direction.