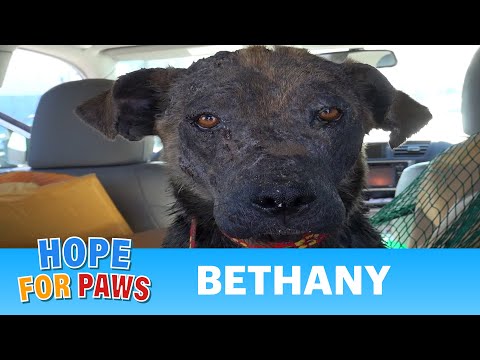 A Sick and Homeless Dog's Inspiring Transformation
(VIRAL VIDEO– Please Share)
Skippy Massey
Humboldt Sentinel
Everyone needs a helping hand—or a paw—and someone
to lean on.
Eldad Hagar is well known online for his animal rescue endeavors, and with the help of Annie Hart of Hope For Paws and the Bill Foundation.org, frequently posts the emotional rescue videos for others.
His latest rescue was of Bethany, a sick and homeless dog.
After being contacted by a worried animal lover, Annie and Eldad coaxed the sick dog into the car with the help of a cheeseburger to take her to the vet.  Soon, with plenty of love and attention and care, Bethany would turn out just fine.
Making a touching account of her progress, Eldad and Annie ask that you share this with others.
 * * * * * * * *
If you liked this story, you may enjoy the Sentinel video article, "Fiona's Second Chance"
Please spread the word.  Share this– and all of our posts– with others, and friend us on Facebook and follow us on Twitter.  We appreciate and thank you for reading, and for giving us a little push in the right direction.