Humboldt County Crime Done by Dolts
Skippy Massey
Humboldt Sentinel
U-Haul Thieves Split From Moving Truck  
While  Caught Red Handed in the Act
Crime and criminals keep on truckin' even when falling flat on their faces.  Take this for example:
On July 6 at about 5:48 am, Eureka Police Department officers responded to the area of the 2900 block of A Street for a vehicle theft that had just occurred.
Dispatch advised that a U-Haul truck pulling a trailer with the victim's car loaded on it had just been stolen from in front of the victim's residence.
Officers began searching the area and located the U-Haul truck turning onto Harris Avenue from "L" Street.  The occupants of the U-Haul truck jumped from the vehicle and fled on foot.
One of the suspects was taken into custody at gun point, identified as Jeff Peter Thomsen, 34, of Eureka. The other suspect fled through backyards in the neighborhood.
While Thomsen was being taken into custody, the U-Haul rolled into a telephone pole at the corner of Harris and K Streets.  The U-Haul had been left in gear as the suspects exited the vehicle.
A K-9 was deployed and tracked the fleeing suspect to Sequoia Park but officers were unable to locate him.
Thomsen was booked into the Humboldt County Correction Facility on charges of vehicle theft, possession of stolen property, and probation violation.
Thomsen is on active probation for possession of stolen property but that didn't stop him one bit coming back for more.
As a result of the investigation, an arrest warrant is being sought for Canyon Lee Backues, 19, of Eureka who was the suspect fleeing the scene.
The Eureka Police Department is actively seeking Backues in this matter.  Anyone with information regarding this crime is urged to call Eureka Police Officer Ben Omey at 707-441-4060.
Wanted Henderson Center Car Napper Nabbed– Then Released!
One career car thief is off the streets.  Well, he was for a short time.
He was swept up red-handed but bailed and released like a piece of two-timing litter flushed out an open window.
On July 3 at about 2:00 pm, on off-duty Eureka Police officer was traveling westbound on Henderson Street, when he observed a gray Nissan Sentra traveling northbound on Fairfield Street.  The officer recognized the driver of the vehicle as Paul Lester Bareilles, 29, of Eureka.
The officer was familiar with Bareilles from prior police contacts and also knows him to have prior arrests for vehicle theft related crimes.  The officer followed the Nissan and obtained its license plate number.  
He contacted the Eureka Police Department dispatch center and was advised that the Nissan had not been reported stolen.  The Nissan accelerated and the officer lost sight of it.
During briefing that evening, the officer was informed that a stolen vehicle report had been taken on the Nissan at about 3:15 pm that afternoon. The Nissan was stolen from a location a few blocks from where the officer had seen Bareilles driving it.
A county wide attempt to locate and arrest was issued for Bareilles on a charge of vehicle theft.
On July 6 at about 3:50 am, an officer was patrolling the Henderson Center area of Eureka due to recent burglaries in that area and located Bareilles walking at the 3300 block of E Street.
Mr. Bareilles was taken into custody.  A search incident to arrest of Bareilles' person and a satchel he was wearing was conducted.   Tools and items commonly used in vehicle thefts were located and seized as evidence.
Bareilles was transported and booked into the Humboldt County Correctional Facility.  Even though it's not his first time around the thievery
block, he soon posted bail and was released with a court date.
Scientists say the world is made up of electrons, neutrons, and protons.  They forgot about morons.
This is an open investigation and anyone with information regarding this crime is urged to call Eureka Police Officer Jon Omey at 707-441-4060.
Just a Little Brown Tar Smack– Everyone's Doing It
Some folks know the price of everything and the common sense of nothing.
On July 6 at 3:00 am, a Humboldt County Sheriff's Office Deputy was traveling southbound on Highway 255 in Samoa when a brown 1987 Nissan Frontier approached the deputy northbound with its high beam lights on. 
The deputy twice flashed the vehicle with his headlights in an attempt to get the driver of the Nissan to dim its headlights. 
When the driver failed to dim his high beam lights the deputy turned his patrol car around to stop the vehicle.
When the deputy turned his patrol car around, the Nissan accelerated to avoid the deputy and lost control as it attempted to negotiate a turn, causing it to almost tip over with two of its driver's side wheels coming off the ground.  The deputy saw either smoke or dust come out from under Nissan which then stalled out.
The deputy pulled in behind the Nissan and contacted the driver who was identified as Richard Michael Callahan, 57 years old, from Redway and the passenger identified as Rebecca Kathleen Chapa, 28 years from Eureka. 
Callahan told the deputy his low beam headlights did not work which is why he didn't dim them.  He also said his license was suspended which is why he avoided the deputy.
While speaking with Callahan and Chapa the deputy saw a hypodermic syringe visible in a purse in the passenger side of the car and marijuana leaves scattered in the backseat.  The deputy arrested Callahan for driving on a suspended driver's license and detained Chapa for possession of the syringe.
The deputy searched the purse and found prescription pills that were not in the name of Chapa.  The deputy searched the vehicle and located scales, packaging material and a golf ball sized piece
of tar heroin weighing approximately 9 grams, along
with a stun gun.
When questioned about the heroin by the deputy, Callahan told the deputy he intended to sell it for profit.  He told the deputy matter-of-factly, "Everyone is doing it, so he figured he would to get ahead of the game."
Callahan and Chapa were transported to the Humboldt County Correctional Facility.
Mr. Callahan was booked on charges of possession of a controlled substance, possession of a controlled substance for sale, transportation of a controlled substance, and driving on a suspended driver's license.  His bail was set at $50,000.
Ms. Chapa was booked on charges of possession of a syringe, possession of drug paraphernalia and violation of probation.  Her bail was set at $20,000.
If you want something in life you have to work for– it unless it's the lottery.
Anyone with information for the Sheriff's Office regarding this case or related criminal activity is encouraged to call the Sheriff's Office at 707-445-7251 or the Sheriff's Office Crime Tip line at 707-268-2539.
Juvenile Gun Play
Since light travels faster than sound people appear more bright than they appear until you hear them speak.
On July 6 at about 5:39 pm, officers with the Fortuna Police Department were dispatched to an apartment complex located in the 100 block of 12th Street for a report of a group of subjects threatening to shoot residents.
While responding, the department received information that the subjects had left the complex and were possibly in the area of the Fortuna High School Campus.
Officers arrived and contacted three juveniles and one adult who admitted to their involvement in the argument. 
While investigating, officers located a large red duffle bag in the school parking lot.  Upon a search of the bag, officers located a .30-30 caliber rifle and ammunition.
Upon further investigation, one of the juveniles, a 15-year old Fortuna resident, admitted that he had placed the items in the parking lot.
The victim in this case declined to cooperate with prosecution for the threats.  The juvenile with the rifle was transported to the Humboldt County Juvenile Hall and later released to his father.
The Department will be seeking charges for: a Minor in possession of ammunition, and Possession of a Firearm on a school campus.
Have another Monster energy drink, kid.  Do faster things stupider with more energy.
The department is asking anyone with information to contact the department's WeTip Hotline at 1-800-78-CRIME. Callers will remain anonymous and may be eligible for a cash reward of up to $1,000.
Traffic Argument and Street Dragging
Ten pounds of crazy in a five pound sack.
n July 6, 2013 at 11:50 pm, officers with the Fortuna Police Department responded to the 700 block of 13th Street for a report of a female in need of medical aid after being struck by a motor vehicle.
Officers and City Ambulance responded and located the 36-year old female who had major life-threatening injuries.
During the investigation, officers learned that during an argument the female tried to exit the 1996 Subaru Legacy she was riding in. 
When she exited, she was dragged for about one block before traveling under the vehicle.  Ouch.  That must've hurt.
The female was transported to Redwood Memorial Hospital.  She was then airlifted to Santa Rosa Memorial Hospital.  That's very bad.
The vehicle's driver, Randy Shibler, 52, of Fortuna, was arrested for Felony DUI Resulting in Injury, and booked into the Humboldt County Correctional Facility.
Mr. Shibler should have been sold to the circus or the Hare Krishnas years ago.
* * * * * * * * * *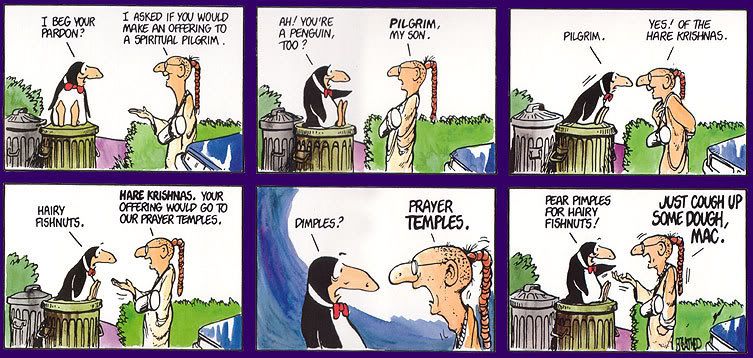 Save us and share the Humboldt Sentinel with others– and friend and follow us on Facebook and Twitter