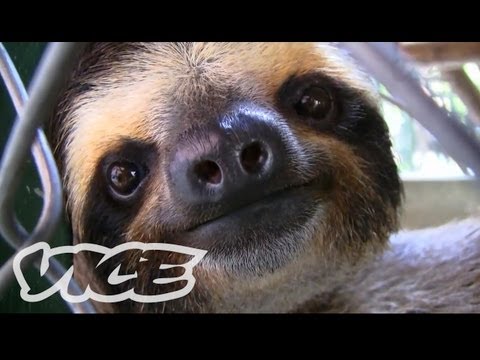 Costa Rica's Baby Sloth Sanctuary
(VIRAL VIDEO)
Skippy Massey
Humboldt Sentinel
What's not to love about baby sloths?
They're fuzzy, smile, have big adorable eyes, and move as slow and gentle as a spoonful of molasses dripping on a cool spring day.  Their squeaks and squeals are as adorable as any kitten. 
They're also pretty damn cute.
The Aviarios Del Caribe Sloth Sanctuary in Costa Rica is the world's only sloth orphanage, home to over a hundred very sleepy adopted urchins whose lives have been saved by legendary sloth whisperer Judy Arroyo.
Sloths are fantastically weird animals, slow moving junkies of the jungle who seem to spend their lives either nodding off or scratching– and occasionally eating a bean or two before drifting back to a blissful daytime nap.
The sanctuary has tours, programs, and overnight accomodations available for visitors receiving rave reviews.  One visiting family wrote:
We were in Costa Rica in January and we visited the Sloth Sanctuary.  This is a low key, charitable establishment that is totally dedicated to the preservation of the native sloths.  The Center give tours of the sanctuary, a film presentation on native sloths, a talk by the staff on their work, a visit to the nursery, and a visitor encounter with the sloths.  The place is very clean and well maintained.

These animals are fascinating and very endearing!  We were introduced to some of the more sociable sloths and the staff are very caring and protective of them.   The center has a dining room with great food, a shop, a small nature walk displaying native plants and trees, and an opportunity to go on a boat ride through the mangroves.  We were lucky and saw three wild sloths in the tree canopies as we sailed along the mangroves!

My favorite was the three-toed guy named Laylo.  I carried him around for two hours.  He looked just as bummed as I was after I had to leave.

This is a great place to visit and I'm sure if you do – you too will be charmed by these strange creatures.  This was my favorite part of our trip to Costa Rica!!
If you're one to fall in love with these animals and can stay awhile, you can also join the sanctuary's volunteer program.  Trainee sloth wranglers feed the sloths and help exercise and potty train the babies.  
The sanctuary runs solely on donations and voluntary help– so you can do your bit helping these vulnerable creatures whose jungle homes are slowly being destroyed by pesticides, encroachment, sold off to US real estate agencies, and sliced and diced by roads and power lines.
Sloth, smile, and love on, people.