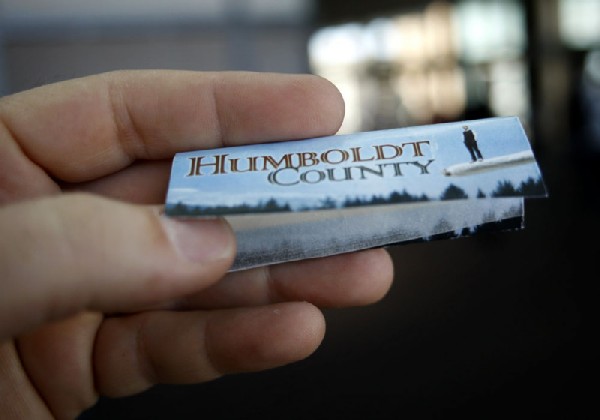 Hundreds Attend Arkley's Throwing Down of the Homeless Gauntlet
(Local Reading Links)
Skippy Massey
Humboldt Sentinel
The mighty Thadeus Greenson filed his firsthand report in
the Times-Standard this morning best explaining what had
transpired last night:
"Hundreds of people descended on Eureka's Wharfinger Building on Wednesday night to passionately discuss homelessness and its impact on Humboldt County at a meeting called by local businessman Rob Arkley.

Contentious at times, the meeting saw more than 300 people pile into the building's main ballroom, as at least another 100 were forced to wait outside by Humboldt Bay Fire Chief Ken Woods because the building was at capacity.  

As about a dozen protesters clamored on the Wharfinger building lawn — leading to four arrests — a string of dozens of speakers touched on all angles of the local homeless debate…

…Many in attendance booed, cheered and jeered speakers on all sides of the issue in the meeting's early minutes before the audience seemed to mellow slightly as the meeting went on…" 

For his full and detailed story, we suggest reading Mr. Greenson's full Times-Standard article here:  "Hundreds Attend Arkley's Meeting on Homelessness– Raucous Gathering Shows Community is Deeply Divided on the Issue" 
…There were reports by others in attendence, too.  Here are some partial excerpts from the local media posts, with links for reading the full article:
From the Samoa Softball blogspot's "Arkley's Home-Poor Meeting:  What Was That?"
So I went to Rob Arkley's impromptu meeting regarding the home poor and was surprised at what a huge gathering it was.  Biggest at the Wharfinger since…..the gala for the Marina Center a few years back  (No, I didn't attend that one, but I drove by out of curiosity).

It was standing room only and some were left outside because of Fire Marshal rules.

Rob gave a quick introduction and said he wanted to fix the root problems leading to homelessness and create a process for a solution… Then he passed the meeting on to his secretary, Shirley.  And she was overwhelmed and had no format to deal with the hour Rob had earmarked for the public to speak and go home to have dinner…
Lost Coast Outpost's Andrew Goff filed his report, "At Rob Arkley's Homelessness Symposium (Audio)"
"This is a case where our desire to do right has become wrong. We've become an absolute magnet for the homeless unlike other communities."

Arkley kicked off the evening by laying out how he thinks Eureka arrived at the place it is and asks people to join together to attempt to solve the problem. 

"Our goal tonight is to create a process, to get a list of people who'd like to participate in the solution," he told the standing room only crowd…

Your Lost Coast Outpost, for better or worse, has included the full roughly hour-long audio of what was said below.  If you want to hunt around for the highlights, here's a quick reference guide to the giant audio file…
From John Chiv Words Worth's "Wharfinger Meeting on Homeless Drew Crowd That Packed The Building"
The meeting at the Wharfinger today regarding the homeless issue had the building packed to capacity. 

About 50 people had to stand outside until people exited and came in one by one as people left, in accordance with the fire chief's instructions.

Eureka Police Department and private security dealt with some polite people who had RSVP'd and arrested a small group of disruptive protestors led by the queen of protest du jour, Verbena, aka Kim Starr…
KIEM-TV had a brief reports focusing on the anti-social behavior of homeless advocate protesters.  
"The protesters could not have done a better job of alienating those around them who would have been more sympathetic to their cause because of their deliberately disruptive, intolerant and inciteful actions," one observer told us.  "They did a real disservice getting their jollies."
Not included in one KIEM's video was Eureka Chief of Police Murl Harpham being shouted at and having water doused on him, other attention-getting protesters angrily inciting the waiting crowd outside, and the wanton goading of security officers towards escalating verbal arguments while claiming harassment:
Four people were arrested at a protest last night outside the Wharfinger Building.  The community packed the house to hear businessman Rob Arkley talk about on-going homeless issues.

As the debate escalated indoors, protesters were outdoors using horns and drums.  Police officials said they got a report of a disturbance at the building and when they arrived they found people yelling in the parking lot.

Officers arrested 41-year old Kimberly Starr, 41, Elise Gerhart, 26, Chad Kemp, 21 and Stephanie Bartlett, 21 for resisting arrest and disturbing the meeting.
Other local reading links of Wednesday night's divided meeting can be found here:
Democratic Humboldt–First:  "Money is Ruthless.  Money is Cruel" and "Our Feudal Overlord Requests Our Protection"
North Coast Journal's article by Kaci Poor: "Update:  Arkley Draws Big Crowd to Talk About Homelessness"
* * * * * * *
"I never considered a difference of opinion in politics, in religion, in philosophy, as cause for withdrawing from a friend."
~Thomas Jefferson
Follow us on Twitter and Facebook 
…and please share us with others