Each Side of Congress Blames the Other for Budget Gridlock
Skippy Massey
Humboldt Sentinel
Washington DC— The first government shutdown in 17 years is
looming by midnight.  What happens next is anyone's guess.
Hundreds of thousands of US government workers came to work Monday without knowing whether they will be needed on Tuesday, as federal agencies faced a devastating shutdown.
Lawmakers in the bitterly divided Congress had only a few hours left to pass a stopgap budget measure and to beat the midnight deadline, but there was little sign of compromise amidst the gridlock.
President Barack Obama has warned that a freeze in non-essential federal spending could have catastrophic effects on the shaky economic recovery, and cost thousands of jobs.  But Congressional leaders have been unable to wrangle a compromise from feuding clans of lawmakers, arguing instead over who takes the blame for the first shutdown in 17 years.
If the deadline expires without a deal the failure will have a global impact.  Oil prices slid and European and Asian shares fell, amid fears for the world's largest economy.
And, at a more domestic level, as the Washington day began staff at federal agencies were warned that their children would not be able to attend government daycare centers on Tuesday.
Some members of Congress tried to put a brave face on the impasse with 15 hours left to thrash out an improbable compromise between the Republican-led House and Democratic Senate.  But most observers agreed the moves were dead in the water when Republicans linked budget legislation to a bid to thwart Obama's health care law.
After the Senate passed a straightforward spending bill on Friday, the House countered by attaching amendments seeking a one-year delay to Obamacare and the repeal of a medical device tax which helps fund the law.
As legislators try to stave off a shutdown, a few unlikely options have emerged.  
House Republicans could pass a short-term measure to finance the government that does not include any of their health care delays, in order to buy more time to come up with another plan.  Or House Republicans could force a repeal of the tax on medical devices in exchange for the House's not sending over a bill that would require members of Congress and their staffs to buy their health insurance on the new exchanges, without any government subsidies.
Democratic Senate Majority Leader Harry Reid, who refused to call the
chamber into session over the weekend despite the looming deadline, warned that this would not stand. 
"The Senate will do exactly what we said we would do and reject these measures," Reid spokesman Adam Jentleson said.
"At that point, Republicans will be faced with the same choice they have always faced: put the Senate's clean funding bill on the floor and let it pass with bipartisan votes, or force a Republican government shutdown."
As lawmakers traded blame, the Democratic leadership sounded resigned about a pending shutdown.  Asked if he believed government would shutter on Tuesday, Reid's number two man, Senator Dick Durbin, said:  "I'm afraid I do."
Republican House Speaker John Boehner has been under intense pressure from a small band of conservative diehards who forced the party to double down on their anti-Obamacare strategy.
With polls showing most voters would blame a shutdown on the Republicans rather than Obama, Reid insisted:  "The American people will not be extorted by Tea Party anarchists."
But Boehner branded the brinksmanship "an act of breathtaking arrogance by the Senate Democratic leadership."
Some Asian markets fell sharply, and Europe followed suit, albeit in part because of fears for the political crisis in Italy.  Oil prices were also down, and analysts said traders were following the situation in the United States closely.
"Things are far from the 'panic stage', but they don't have to be for investors to be spooked by the apparent intractability of the US political deadlock," said Tachibana Securities market analyst Kenichi Hirano.
US and foreign investors fear a shutdown will create a poisonous environment ahead of mid-October talks to increase the amount of money the country is authorized to borrow.
If the $16.7 trillion debt ceiling is not raised, Washington could run out of cash and default on its loan payments.  Republicans have already warned they will make this costly maneuver their next battlefield.
 (Via Yahoo News)
* * * * * * * *
A $16.7 trillion dollar debt ceiling is a lot of money and the Republicans are holding firm.  And let's face it, they absolutely hate—no, loathe—President Obama and everything he represents, choosing to be obstructionist at every turn.
Let's face something else:  Republicans were within their rights to oppose the law while Congress was debating it, but fighting it three years after it was enacted, and more than a year after the Supreme Court ruled it constitutional, is extreme and dangerous.  
The end result is this: Republicans are sabotaging and trying to nullify a democratically passed law.
Congress has two jobs to do:  Pay the bills on time, and pass a budget on time.  They should do just that because, unless they've forgotten, that's what they get paid to do.
If we're really going to shut down the government, let's shut the whole damned thing down, starting with Congress.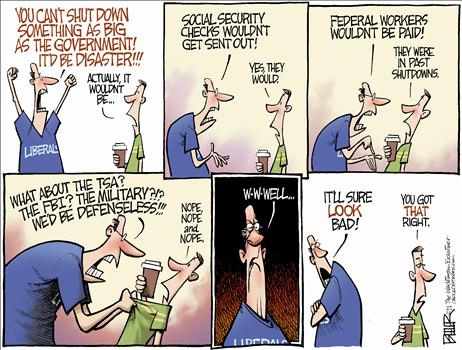 We appreciate you following us
on Twitter and Facebook and
sharing the Humboldt Sentinel 
with others.