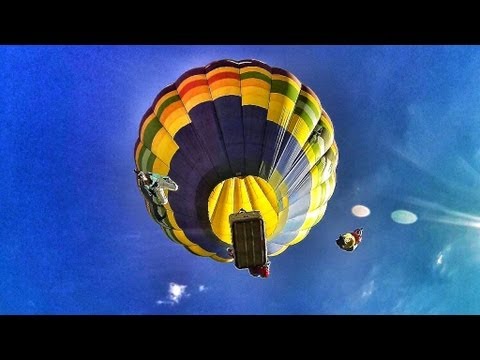 Falling With Style
Skippy Massey
Humboldt Sentinel
It's a great day to be alive.
YouTube sensation Devin Graham continues his "epic road trip,"
this time by bringing a small group of people together for some
death-defying base jumping.
Graham, known as devinsupertramp on YouTube, has quickly become known for pushing events to extremes.  As Sentinel readers know, he's filmed some wild and crazy things over the past two years.
His latest video seen above is titled "Insane Base Jumping – Falling With Style" and features a group of five people– Marshall Miller, Cade Palmer, Lauren Crepeau, Scott Rogers, and Brian Mosbaugh– jumping first from a tall bridge, and later a hot air balloon, with only parachutes and a little flair breaking the adventurers' fall.
Be advised some of the stunts these people pull off are just plain dizzying, particularly one jump that begins with a handstand on a railing.  It's not for the faint of heart or those afraid of heights.
The stunts were done in Jackson Hole, Wyoming, according to the behind-the-scenes video seen below.  Filmed using a Canon 1DC, Canon 5D Mark III, and GoPro3 cameras hooked up to a Go-Scope, the video's thumping musical score is titled "Daybreak" by Overwerk.  The clip is best seen at a full-screen resolution and the color clarity is nothing short of spectacular.
Graham now has 99 videos posted to his account.  We can only imagine he'll do something spectacular for his 100th.
If you liked this, please consider following
us on Twitter and Facebook and
sharing the Humboldt Sentinel.
Thanks– we appreciate your support.