7th Grader Opens Fire; Teacher Killed, Two 12-Year-Old Students Wounded
VIDEO

: Student Eyewitness Describes Chaotic Scene
Skippy Massey
Humboldt Sentinel
SPARKS, Nev–  It was another ugly act of school violence with unusually deadly consequences.
A teacher at a middle school in Nevada was shot and killed while trying to protect children after a student arrived on campus Monday and started opening fire before turning the weapon on himself, police say.
Two 12-year-old students were also wounded in the violence at Sparks Middle School in Sparks, Nev., that erupted just after 7 a.m.  One was shot in the shoulder, the other in the abdomen and has undergone surgery, Washoe County School District Chief of Police Mike Mieras said during a news conference.   Both wounded boys were listed in stable condition at Renown Regional Hospital.
Family members identified the staff member who was killed as eighth grade mathematics teacher and sports coach Michael Landsberry, a 45-year-old Marine military veteran and member of the Nevada Air National Guard who had done two tours of duty in Afghanistan.  
Landsberry had worked in the Washoe County School District since August 2001, according to his Facebook page.  He had just celebrated his wedding anniversary on Oct. 18 and leaves behind a wife and two stepdaughters.
The name of the shooter, believed to be a seventh-grader who died at the scene, was not released.  The youth died of a self-inflicted gunshot wound after turning the semiautomatic handgun on himself, authorities said. 
While authorities aren't positive where the gun came from, they believe it belonged to his parents.  A federal law enforcement source said the boy took his parents' handgun to school.
Police said there is no apparent motive yet for the shooting and they believe the youth acted alone.  They said it was too early to tell whether the gunman was targeting anyone or simply on a spree. 
A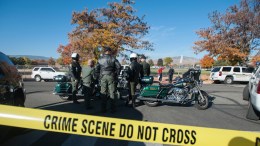 Sparks police dispatcher said reports of the shooting– which happened on the school's campus, but outside the school building itself– started coming in at 7:16 a.m. as parents were dropping off their kids. 
"Law enforcement officers were on the scene in less than three minutes from the first calls," Mieras said.
Police said between 150 and 200 officers responded to the shooting.  But by then, it was over.
Jose Cazares, a student at Sparks Middle School, said he saw the armed student shoot two classmates before the shooter turned, and aimed the gun at Jose's chest.  Mr. Landsberry then stepped between Jose and the shooter, Jose told NBC's "Today" show on Tuesday.
"He was telling him to stop and put the gun down.  Then the kid, he yelled out 'No!'  Like, he was yelling at him, and he shot him," Jose said.  "He was calm, he was holding out his hand like, 'Put the gun in my hand.' "  And then the shooter pulled the trigger.
Jose and his friends ran to hide from the gunman.  The shooter heard one of Jose's friends crying and threatened to shoot them, if they told anyone.  The shooter then fired several bullets out the window, before apparently running out of bullets, Jose said.  The boys lied to the shooter, telling him they didn't see anything, and then the shooter ran off.
Seventh-grader Andrew Thompson said one of his friends was shot in the shoulder, prompting Landsberry to try to talk the gun-slinging student into giving up.
"He said, 'back up!' " Andrew said of the shooter. "The teacher backed up, and he pulled the trigger."
Kyle Nucum, a 13-year-old student, told the Reno Gazette-Journal what he saw:
"We were at the basketball court and we heard a pop, like a loud pop, and everybody was screaming and the teacher came to investigate – I thought it was a firecracker at first, but the student was pointing a gun at the teacher after the teacher told him to put it down and the student fired a shot at the teacher and the teacher fell and everybody ran away.  And we ran across the field to get somewhere safe and while we were running we heard about four or five more shots and we just got somewhere safe.  This lady let us into her house."
"I heard him saying, 'Why you people making fun of me, why you laughing at me," student Michelle Hernandez told the newspaper of the shooter.
"He was really a nice kid," schoolmate Amaya Newton said.  "He would make you smile when you were having bad day."  Amaya said she thought the two students wounded at the Nevada school — one shot in the cafeteria and the other in a hallway — were friends of the shooter.
Authorities believe Landsberry was trying to protect students when he was killed.  Witnesses said he was shot after he placed himself between the kid with the gun and other students.
"We've got video we have to review, people we've got to talk to.  My estimation is that he is a hero," said Reno Police Department Deputy Chief Tom Robinson. "We do know he was trying to intervene."
Relatives said Landsberry was the kind of teacher who would have tried to stop the attack.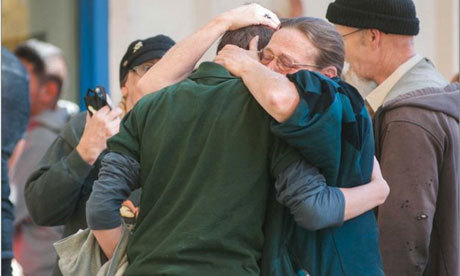 "To hear that he was trying to stop that is not surprising by any means.  He could have ducked and hid, but he didn't.  That's not who he is," said his sister-in-law Chanda Landsberry.  "It doesn't feel real. It's totally surreal to have it happen.  The kids loved him."  She added his life could be summed up by his love of family, his students and his country.
On his school website, Michael Landsberry posted a picture of a brown bear and took on a tough-love tone, telling students, "I have one classroom rule and it's very
simple: `Thou Shall Not Annoy Mr. L."'
Sparks Mayor Geno Martini said late Monday that there still was no indication of the shooter's motive, but that the boy shot the two students before being confronted by Landsberry.  Martini described Landsberry as a "well-liked teacher by students and faculty."
"This happens in other places but you never expect it to happen in your city, especially in a safe family town," said Martini, who has lived in Sparks all of his life.
Dale Lundin, site facilities coordinator at the school, said Monday was "a very scary morning."
"I was in the building a few minutes before the entry bell rang, and then there was a lot of commotion going on out in the hallway," he said. "I stepped into the hallway, heard a couple of gun shots."
After seeing that the hall was clear, Lundin went into his office and locked the door.
"I could hear the police out in the hallway, but we're trained to not open the door or go out until it's clear," he said.  "The staff and the students both did a very good job because we've gone through these 'code reds'
before.
"You never really think that it's going to happen at your place of work, or in this case, your school.  When it does happen, it kind of puts you in shock," Lundin said.
Washoe County School District spokesman Charles Rahn said that the middle school and the adjacent Agnes Risley Elementary School were evacuated to Sparks High School at the time of the shooting.  
Classes were canceled and Sparks Middle School will remain closed for the rest of the week following the incident.
At the evacuation center, stunned parents walked with their arms around their children, many of whom were in tears.  There was shock and disbelief a school shooting could have occurred in the normally peaceful community of Sparks, a city of approximately 90,000 lying just east of Reno. 
The school, which enrolls about 700 students in the 7th
and 8th grades, has a strict uniform policy that forbids the colors red and blue in students' outfits, colors commonly associated with rival gangs.  The unidentified shooter was dressed in khaki slacks that are part of middle school's required uniform, witnesses said. 
"We came flying down here to get our kids," said Mike Fiorica, whose nephew attends the school. "It's really chaotic.  You can imagine how parents are feeling.   You don't know if your kid's OK or not."
In 2006, a boy using his father's .38-caliber pistol opened fire at another Reno-area middle school and wounded a boy and girl, both 14.  A gym teacher was honored later for ending the episode by telling the boy to drop the gun and bear-hugging him.
James Scott Newman, 14 at the time of that shooting, pleaded guilty to battery with a deadly weapon and got house arrest.
* * * * * * * * *
This shooting reignites the national debate over gun violence and school safety.
Last week, a student at an Austin, Texas, high school killed himself in front of other students.  In August, a student at a high school in Winston-Salem, North Carolina, shot and wounded another student in the neck.
Another shooting took place at an Atlanta middle school in January, though no one was hit.  That same month, a California high school student wounded two people, one seriously.
The Nevada shooting comes almost a year after a gunman killed 26 people at Sandy Hook Elementary School in Newtown, Connecticut, igniting nationwide debate over gun violence and school safety.
Since the Newtown shootings last December, proposed school security plans across the country have included arming teachers, adding armed security guards and bringing in bulletproof backpacks and whiteboards.
Some teachers have started taking self-defense and combat classes in case a shooter enters their school.  One class teaches how to escape or take cover but focused most of its four hours on how to fight and disarm an attacker, something few educators have ever considered how to do.
(Via Google/Yahoo News and Macromedia)
If you like our posts, please feel free to use and share them with others