Different Initiatives in the Works
Skippy Massey
Humboldt Sentinel
It's coming.  Again.
Nearly two-thirds (65%) of Californians support legalizing,
regulating and taxing recreational marijuana in the state,
according to a Tulchin Research poll.
The figure, based on responses of 1,200 likely 2016 voters surveyed during the last two weeks, shows a "solid majority" back proposals to legalize adult recreational marijuana, the San Francisco-based pollster said.  The poll found 32% oppose legalization and 3% were undecided.
Lt. Gov. Gavin Newsom and American Civil Liberties Union representatives released the poll results during a news conference last month and announced the launch of a two-year research effort focused on proposals to legalize recreational marijuana.
Newsom will chair a panel of 16 experts, including professors, medical professionals and policy researchers, who will study legal and policy issues involved in adult recreational marijuana.
"This is about real people," Newsom said to The Huffington Post.  "Communities are devastated because of this abject thing called the drug war.  Forget the politics.  This is the right thing to do.
"But we need to answer the tough questions before we put it on the ballot," Newsom said.  "I want the research in order to be more convincing to others."
Not everyone is willing to wait until 2016.  Two groups have filed
proposals to put recreational pot initiatives on California's 2014 ballot.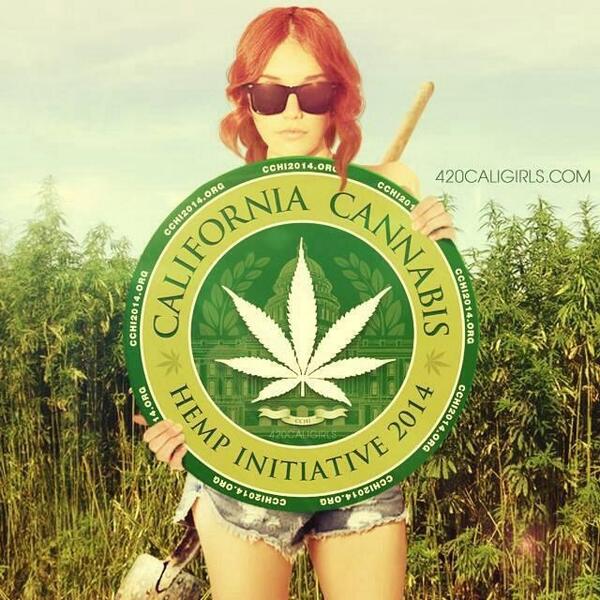 Both proposals — the California Cannabis Hemp Initiative and the Marijuana Control, Legalization and Revenue Act — would regulate and tax marijuana similar to alcohol.  And both face an uphill battle in gathering enough funds and volunteers to collect the 504,000 signatures in 100 days needed to make it onto the ballot.
The organizers behind the California Cannabis Hemp Initiative are collecting signatures, and backers of the Marijuana Control, Legalization and Revenue Act are awaiting approval from the state to begin collecting signatures.
Other marijuana advocacy groups– including Newsom's panel– are working toward a California voter initiative for 2016.
"Voter turnout tends to be much higher in presidential election years," Mason Tvert, communications director of the Marijuana Policy Project, said.  "We believe a 2016 initiative will best demonstrate just how much support there is for ending marijuana prohibition in California."
The Drug Policy Alliance echoed this sentiment, saying more education
is needed to rally voter support.
"The support for marijuana legalization in California is there," Amanda Reiman, policy manager of the Drug Policy Alliance, said.  "It just may not be there strongly enough or from the right populations to claim victory in 2014."
California voters narrowly rejected marijuana legalization in 2010 with Proposition 19.  About 53% of California voters voted no.
Drug Policy Alliance co-hosted a symposium on legalization in California with the California Society of Addiction Medicine in Denver.  
Reiman said that working with that organization is part of an effort to
win support from California's medical community, which she said is
essential to persuade the public.
Drug Policy Alliance also is working with environmental and agriculture groups, since much of California marijuana cultivation is outdoors, particularly in the northern counties of Humboldt, Mendocino and Ukiah.
California became the first state to legalize medical marijuana when voters passed Proposition 215 in 1996.  
Since then, the medical cannabis industry has flourished, generating upwards of $100 million in annual tax revenue.
"This is not a matter of 2014 or bust, or 2016 or bust," Reiman said. "Legalization of marijuana in California is going to happen."
* * * * * *
Surprising Facts About Marijuana and the US Economy
$13.7 Billion Saved On Prohibition Enforcement Costs
The government would save an estimated $13.7 billion on prohibition enforcement costs and tax revenue by legalizing marijuana, according to a paper endorsed by 300 economists.
Marijuana Inmates Cost Prisons $1 Billion per Year
Inmates incarcerated on marijuana-related charges cost U.S. prisons $1 billion annually, according to a 2007 study, AlterNet reports.
Marijuana Prohibition Costs Taxpayers $41.8 Billion A Year
Including lost tax revenues, a 2007 study found that enforcing the marijuana prohibition costs tax payers $41.8 billion annually, Forbes reports.
California Marijuana Crop Worth $14 Billion A Year
Marijuana growers account for $14 billion a year in sales in California, making it the state's most valuable cash crop, TIME reports.
Illegal Marijuana A $36 Billion A Year Industry
It's estimated that illegal marijuana is a $36 billion industry in the U.S., MadameNoire reports.
One-Third Of Americans Think Legalization Would Boost The Economy
About one-third of Americans say they think legalizing marijuana would boost the economy, according to a 2010 poll by Associated Press-CNBC.
Dispensary Ads Boost Newspapers' Revenue
The Sacramento News and Review saw a big boost in ad revenue when it offered advertising space for more than 60 medical marijuana dispensaries, enabling the publication to hire three additional employees, according to News10.nets
Mendocino Zip Tie Program Raised $600,000
Mendocino County, California's zip tie program aimed at regulating medical marijuana growing by charging permits for each plant raised $600,000 in revenue in for the Sheriff's department in 2011.
Oakland Raised More than $1 Million In Marijuana Tax Revenue
The City of Oakland, California raised $1.3 million in tax revenue from medical marijuana dispensaries in 2011, 3 percent of the city's total business tax revenue, according to The New York Times.
Colorado Pulls In $5 Million From Pot Sales Tax
In 2011, Colorado pulled in $5 milllion in sales taxes from medical marijuana businesses, The New York Times reports.
Legal Marijuana Could be $100 Billion Industry
Economist Stephen Easton estimated in 2010 that legal marijuana could be a $45 to $100 billion industry, Bloomberg Businessweek reports.
Majority of States Support Taxing Marijuana
More than 60% of states agree with taxing marijuana, according to a poll by Associated Press-CNBC.
Marijuana Affects Workplace Motivation
Sorry to say, but a Norwegian study 25 years in the making came to the shocking conclusion that frequent marijuana use lowers employees' motivation at work.
Denver Counts More Dispensaries than Starbucks
As of July 2011, the city of Denver counted more medical marijuana dispensaries than Starbucks franchises.
Via Huffington Post/Mark Newcomb/Los Angeles Times/Forbes
If you liked this post or others, please consider sharing them