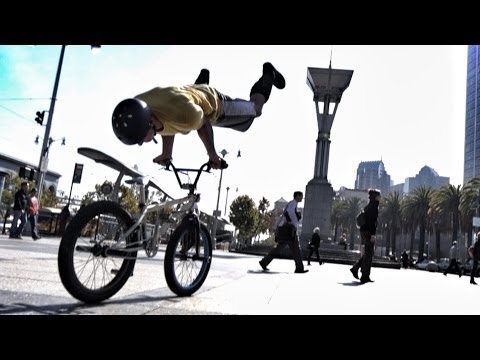 BMX Parkour in the Big City
Skippy Massey
Humboldt Sentinel
The bikers in this video are pretty insane. 
Their freerunning bikes are essentially extensions of their bodies,
with a great deal of athleticism and grace and some subtle corporate
images thrown into the mix.
Devin Graham's latest video captured some gnarly moves on the streets of San Francisco– with the City's passerby barely noticing a thing.
We're pretty sure if we tried any of these things we'd suffer more than a few broken bones, a collapsed lung, black eyes, and/or decapitation among several other various forms of gruesome injury.  They make it look easy.  Way too easy.
Below is Devin's behind –the-scenes mix of how it all came about. 
Happy biking, people.  Stay safe.
If you liked this post or others, please consider sharing them.  Thanks.