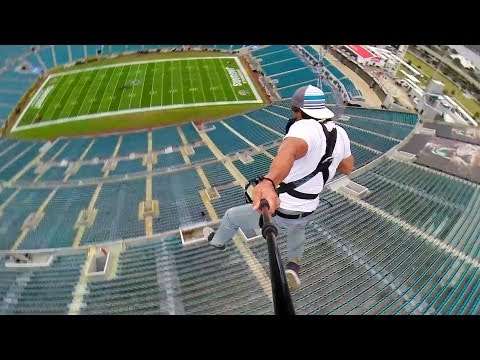 Kids and Cheerleaders Just Wanna Have Fun
Skippy Massey
Humboldt Sentinel
It may not have been the best NFL season for the Jacksonville Jaguars, but that doesn't mean there's not
some fun still to be had inside of EverBank Field this year.
YouTube uber-darling Devin Graham and his Panasonic camera gear came up with the unique idea of making a rope swing and zip line combination thrill ride at the NFL stadium of the Jacksonville Jaguars– along with some help by the Aerial Concepts stunt group and a really, really good insurance policy.
Just add some emotion and chaos and jump.  It's easier than you may think.  The beauty of risky behavior is building your wings on the way down.
The Jaguar's mascot, Jaxson de Ville, did a back flip off the light tower at EverBank Stadium.  The cheerleaders for the Jaguars also took turns leaping off the stadium lights in the ultimate football thrill ride of a lifetime.
Below, Devin talks behind-the-scenes of what it took to make it all work without anyone breaking their neck and every other major bone in their body. 
Forget football, we're thinking this could be reason enough to build a stadium.