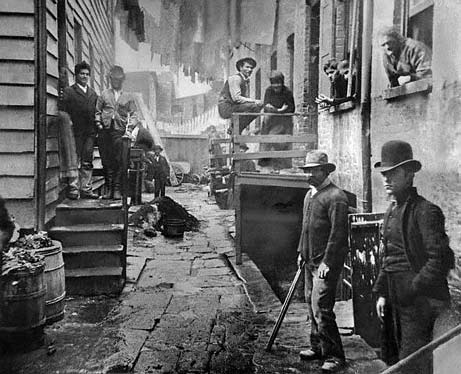 The Forgotten Virtues of Corruption and Social Service, Intertwined
Skippy Massey
Humboldt Sentinel
Terry Golway
The New York Times
Political machines clearly aren't what they used to be.  
Last fall's designation of the old Tammany Hall headquarters on Union Square as a city landmark is a reminder of just how powerful the nation's most famous machine was, and why it remains a presence in political conversations.
Tammany Hall — shorthand for the faction that controlled Manhattan's Democratic Party for most of a 150-year period — has a well-deserved place in the annals of urban misgovernment in the United States.  It stole elections, it intimidated political antagonists, and it shook down contractors and vendors.
It produced the very face of political corruption, William M. Tweed, known to friend and foe as "Boss."  And it was, at best, indifferent to the grievances of African-Americans and later, Hispanics, in New York.
But there's more to the story:  Tammany Hall's leaders delivered social services at a time when City Hall and Albany did not.  They massaged justice at a time when the poor did not have access to public defenders.  And they found jobs for the unemployed when the alternative was hunger and illness.
Barbara Porges, a Tammany district leader years before women won the right to vote, prided herself on knowing the names and predicaments of peddlers who worked on Orchard Street in the heart of her district.  When one of them, an onion seller, contracted tuberculosis, Ms. Porges raised money to send him to a drier climate.  Nobody saw reason to ask how this was achieved.
For generations of immigrants and their children in Manhattan, the face of government was the face of the local Tammany ward heeler.  And it was a friendly face.  This was something entirely new for Russian Jews, Southern Italians and, to be sure, the Irish who dominated the machine.  Their experience with politics in the old country was not quite so amiable.
For Tammany, power rested on voter turnout.  And turnout was a function of relentless outreach and tireless service.
The legendary Tammany leader George Washington Plunkitt — the man who coined the phrase "honest graft" — met with constituents and lesser Tammany officials in his district several times a week to find out who was happy with Tammany's services and who required some special attention.
Plunkitt was a leader of Tammany Hall and was, by the standards of our times and his, undeniably corrupt.  As his Boswell, newspaperman William Riordon, noted:
"In 1870 through a strange combination of circumstances, he held the places of Assemblyman, Alderman, Police Magistrate and County Supervisor and drew three salaries at once — a record unexampled in New York politics.

Facing three bidders at a city auction of 250,000 paving stones, he offered each 10,000 to 20,000 stones free and having thus dispensed with competition bought the whole lot for $2.50."
Plunkitt was not only corrupt but a hardworking, perceptive and appealing politician who took care of his constituents, qualities one rarely find in any plurality of combinations in politics these days.
Politics, Plunkitt said, "is as much a regular business as the grocery or the dry-goods or the drug business" and it was based on studying human nature.  He claimed to know every person in his district, their likes and their dislikes:
"I reach them by approachin' at the right side . . . For instance, here's how I gather in the young men.  I hear of a young feller that's proud of his voice, thinks that he can sing fine.  I ask him to come around to Washington Hall and join our Glee Club.  He comes and sings, and he's a follower of Plunkitt for life.

Another young feller gains a reputation as a baseball player in a vacant lot.  I bring him into our baseball club.  That fixes him.  You'll find him workin' for my ticket at the polls next election day. . .

I rope them all in by givin' them opportunities to show themselves off.  I don't trouble them with political arguments.  I just study human nature and act accordin'."
Plunkitt also believed in sticking with his friends: "The politicians who make a lastin' success in politics are the men who are always loyal to their friends, even up to the gate of State prison, if necessary.  Even if it's only one man. . . you get his cousin, and his cousin and so on, until you have your own organization."
His prescription for becoming a statesman was to go out and get supporters.  Nothing so dramatically illustrates this than a typical day for Plunkitt, as recorded by newspaperman Riordon:
"Plunkitt was aroused a two a.m. to bail out a saloonkeeper who had been arrested for tax law violations.  At six he was again awakened, this time by fire engines.  Tammany leaders were expected to show up at fires to give aid and comfort.

"At 8:30 am he was getting six drunk constituents released.  At nine he was in court on another case.  
At eleven, upon returning home, he found four voters seeking assistance.  At three he went to the funeral of an Italian, followed by one for a Jew.

"At seven p.m. he had a district captains' meeting.  At eight he went to a church fair.  At nine he was back at the party clubhouse listening to the complaints of a dozen pushcart peddlers.  At 10:30 he went to a Jewish wedding, having "previously sent a handsome wedding present to the bride."

He finally got to bed at midnight."
It was a principle that worked well for Tammany Hall, which at its height early this century had 32,000 committeemen and was forced to use Madison Square Garden for its meetings.
Another notable Tammany district leader who worked his way up from poverty, Jeremiah T. Mahoney, once insisted that he and other Tammany colleagues never forgot the dire circumstances of their impoverished childhoods amid the splendor of late 19th-century Manhattan.
Those memories, he argued, led Tammany to support progressive reforms like workers' compensation, the beginning of minimum-wage laws, the federal income tax, public pensions for widows and children, greater government regulation of the workplace and private property, and other laws that helped set the stage for the New Deal in the 1930s.  The Tammany machine's two greatest advocates for social reform were Mahoney's law partner, Senator Robert F. Wagner, and the four-time governor Alfred E. Smith.
At the same time, Tammany resisted the reform movement's impulse to impose an evangelical Anglo-Protestant morality on the Catholics and Jews who made up the bulk of New York's poor.  Many private charities in the early 20th century were obsessed with dividing the poor into those considered worthy of help and those whose personal lives disqualified them for assistance.
Tammany figures, many of them descended from survivors of the potato famine in the mid-19th century, made no attempt to investigate the claims of those who sought their help.  One of the machine's legendary scoundrels, "Big Tim" Sullivan, explained how he approached those who sought a free meal in his clubhouse: "I never ask a hungry man about his past.  I feed him not because he is good, but because he needs food."
Yes, many Tammany figures, including Sullivan, were corrupt.  But it's hard not to detect more than a little bigotry in the rhetoric of the machine's foes.  
Andrew D. White, president of Cornell University and one of the late 19th century's most-celebrated reformers, once complained that under Tammany and its imitators, a "crowd of illiterate peasants, freshly raked from Irish bogs, or Bohemian mines, or Italian robber nests," exercised "virtual control" over New York and other cities packed with immigrants.
Indeed they did, thanks to Tammany's embrace of an early form of multiculturalism.  Tammany's Irish leaders were quick to incorporate Jews into their clubhouses (Herbert Lehman, the first Jew elected governor of New York, was vice chairman of Tammany's finance committee in the mid-1920s), and while it was hardly ahead of its times on race relations, it encouraged black participation at a time when fellow Democrats in the South suppressed voting rights.
Tammany Hall certainly was guilty of many of the offenses arraigned against it.  But those flaws should not overshadow Tammany's undoubted virtues.  
Tammany Hall was founded in 1854; its golden age lasted until the three-term LaGuardia administration began in 1934.  For only ten intervening years was Tammany out of office.  We got rid of people like Plunkitt and machines like Tammany because we came to believe in something called good government.
But in throwing out the machines we also tossed out a philosophy and an art of politics.
The machine succeeded not simply because it could round up votes.  It succeeded because it was unafraid of the grunt work of retail politics and because it rarely lost touch with its voters.
Terry Golway is the author of the forthcoming book "Machine Made: Tammany Hall and the Creation of Modern American Politics."
* * * * * * * * *
(Via Undernews)
Please share this– and our other articles– with others if you like, and follow us on Twitter and Facebook.  Thank you.