19-Year-Old Serial Murderer Part of Satanic Cult Luring Victims, She Says
Skippy Massey
Humboldt Sentinel
SUNBURY, PA– Move over Dexter.
Nineteen-year-old satanist Miranda Barbour admits to killing Troy LaFerrara of Port Trevorton.  And there are more victims spread across the nation, she claims.
In a prison interview Friday night, she said that she considered sparing his life until he said the wrong thing.  She also said LaFerrara was one of dozens of such victims she killed in the past six years.
Barbour, with her husband, Elytte Barbour, 22, of Selinsgrove, has been charged by Sunbury police in the Nov. 11 fatal knifing of LaFerrara.  She requested an interview that was recorded by the Northumberland County Prison on Friday night.
While she offered scant details of her participation in slayings in Alaska, Texas, North Carolina and California, city police confirmed Saturday they had been working, prior to her revelations Friday night, with investigators from other states and the FBI about Miranda Barbour's possible connection to other killings.  
The majority of her murders, she said, took place in Alaska.
City police on Saturday would not comment on the status of those investigations.
At 22 Victims, "I Stopped Counting"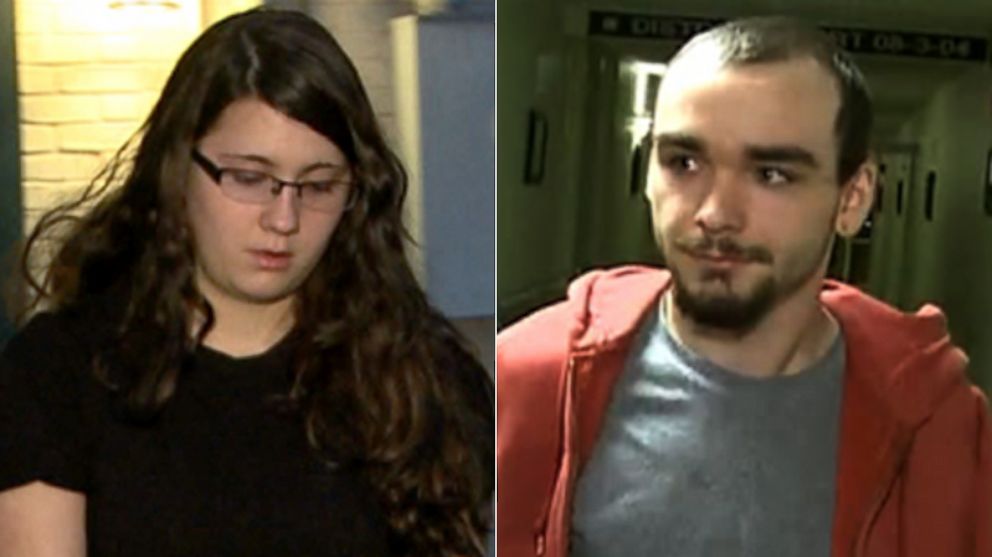 Asked Friday night how many people she had killed, Miranda Barbour said through a jailhouse phone:  "When I hit 22, I stopped counting."
She wants to plead guilty to LaFerrara's murder, and said she is ready to speak with police about her other victims.
"I can pinpoint on a map where you can find them," she said.  LaFerrara, Miranda Barbour said, was Elytte's first victim.
The 42-year-old Port Trevorton resident was killed on the Barbours' three-week wedding anniversary.  "I remember everything," Miranda Barbour said. "It is like watching a movie."
She said she agreed to sex for $100 with LaFerrara, whom she met through a Craigslist ad.  The two met in the parking lot of the Susquehanna Valley Mall in Hummels Wharf, and drove nearly six miles to Sunbury.
At one point, she planned to let LaFerrara out of her Honda CRV.
"He said the wrong things," she said. "And then things got out of control. I can tell you he was not supposed to be stabbed. My husband was just supposed to strangle him."
Time to "Get It Out"
According to the obtained court documents, Miranda Barbour stabbed LaFerrara 20 times as Elytte Barbour sprang from the floor of the back seat to strap a cord around LaFerrara's neck.
As she said upon her arrest, Miranda Barbour on Friday night repeated that LaFerrara tried to grope her, but she said it was his words that set her off.
"I lied to him and told him I just turned 16," she said.
"He told me that it was OK.  If he would have said no, that he wasn't going to go through with the  arrangement, I would have let him go."
Miranda Barbour said she doesn't care whether people believe her, that she wanted to tell her story because she wanted to come clean and stop living a lie.  She said she felt no remorse for her victims and said she killed only "bad people," a belief she traced through a troubled childhood.
She said she was sexually molested at age 4 and was introduced to murder at 13, literally in the hands of a man who led her to satanism — beliefs that she said she held at the time of the LaFerrara homicide.
"I feel it is time to get all of this out," she said.  "I don't care if people believe me. I just want to get it out."
Suspect: I Joined Satanic Cult
Miranda said when she was 4, she was sexually molested by a relative.
Elizabeth Dean, Miranda's mother, confirmed Saturday that her sister's husband was later arrested and charged with sexual abuse of a minor and sentenced to 14 years in prison.
"It was bad," Dean said. "I never let (her) stay anywhere except for my sister's house, and I was devastated when I found out."
Nine years later, Miranda joined a satanic cult in Alaska.  Soon after, Miranda said, she had her first experience in murder.
Barbour said she went with the leader of the satanic cult to meet a man who owed the cult leader money.
"It was in an alley and he (the cult leader) shot him," she said, declining to identify the cult leader.
"Then he said to me that it was my turn to shoot him.  I hate guns.  I don't use guns.  I couldn't do it, so he came behind me and he took his hands and put them on top of mine and we pulled the trigger.  And then from there I just continued to kill."
While in the satanic cult, Miranda became pregnant.  The cult did not want her to have the baby, so, she said, members tied her to a bed, gave her drugs and she had an "in-house abortion."
However, her mother on Saturday said that when Miranda told her about the abortion, she took her daughter to a doctor who said there were no signs of an ended pregnancy.
Miranda said she spent the next three years in Alaska, continuing in the satanic cult and participating in several murders.
"I wasn't always there (mentally)," she said, adding that she had begun to use drugs.  "I knew something was bad inside me and the satanic beliefs brought it out.  I embraced it."
During those three years, Miranda said she became pregnant again.
"And I moved to North Carolina," she said.  "I wanted to start over and forget everything I did."
She left Alaska as a high-ranking official in the satanic world, leaving the father of her second pregnancy, a man named Forest, the No. 2 leader in their cult, who was murdered.
Ready to Talk to Police
Although Miranda would not say who else may have been involved in the alleged murders, she said all police have to do is talk to her because she is ready to speak.
"I would lure these people in," she said.  
"I studied them.  I learned them and even became their friend.  I did this to people who did bad things and didn't deserve to be here anymore."
Sunbury police Chief Steve Mazzeo said authorities are aware of Miranda's claims of murders, are taking them very seriously, and are also aware of Friday night's interview.  Prison officials have been cooperating with his department, Mazzeo said.
"We are reviewing the recording of interview and I will not confirm or deny anything at this point," he said.
"I will however say that through investigations by lead officer Travis Bremigen, he has been in contact with several other states and is working with law enforcement from various cities and towns.  From information we gathered and from information gathered from her interview we are seriously concerned and have been in contact with the proper authorities," Mazzeo said.
Mazzeo also said investigators will be looking into the death of a man with whom Miranda Barbour had a 1-year-old child.  He would not elaborate.
During the interview, Miranda was asked that, given her small stature, how people would believe she would be capable of murder.
"Looks," she said, "can be deceiving."
Asked why she pleaded not guilty to the LaFerrara murder, she simply said: "I didn't want to."
"When I was at my arraignment and the judge asked me how do I plead, I was ready to say guilty and my attorney (chief public defender Ed Greco) grabbed the microphone and said not guilty."
Miranda Barbour said she has not spoken with her husband since the day she was arrested, but saw a news photo of Elytte Barbour's new teardrop tattoo that he displayed at his most recent court appearance.
Husband:  "Proud of What He Did"
Elytte Barbour, her accomplice, is being held in Columbia County Jail.
"He is proud of what he did," she said. "I will always love him."
Elytte Barbour told officers before his arrest that he and his wife, Miranda, had planned to kill before, but their plans never worked out.
That was until victim Troy LaFerrara responded to an online posting that promised companionship in return for money, authorities said.
According to Sunbury police, Elytte Barbour told investigators he hid in the backseat of the couple's SUV as his wife picked up LaFerrara at a mall Nov. 11.  He told police that, on his wife's signal, he wrapped a cord around LaFerrara's neck, restraining him while Miranda Barbour stabbed him.
Following his wife's arrest, Elytte Barbour told news media that Miranda Barbour, whom he married Oct. 22, regularly hired herself out as a "companion" to men she met on various websites, a business venture he said he supported because it didn't involve sexual contact.
Barbour said his wife made anywhere from $50 to $850 by meeting with men for such activities as having dinner together or walking around a mall.  The ads she placed on websites including Craigslist all said upfront that sex was not part of the deal, he said.
"She is not a prostitute," he said. "What she does is meet men who have broken marriages or have no one in their lives, and she meets with them and has delightful conversation."
Miranda said she has no regrets for any of her alleged crimes.
"I have none," she said.
"I know I will never see my husband again and I have accepted that.  I know I wanted to talk about all this because I know I had a 20-year window where I would possibly get out of jail and I don't want that to happen.  If I were to be released, I would do this again.
"By no means is this a way to glorify it or get attention.  I'm telling you because it is time for me to be honest and I feel I need to be honest."
* * * * * * * * *
Via Newsy/Google News/Sunbury Times/BBC