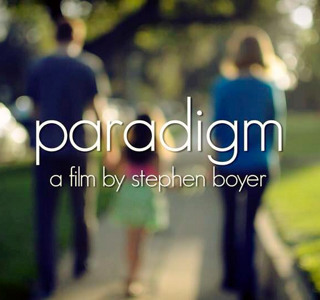 Children Know What It Is To Miss Someone
Skippy Massey
Humboldt Sentinel
Simple and beautiful, Paradigm was written, directed, filmed and scored with original music by Stephen Boyer,
a high school student.
Sweeping a number of awards at film festivals across the nation, it tells a simple story told through the eyes of two children who use their combined memories to rationalize the actions of their parents, who haven't exactly been getting along very well lately.
Their relationship obviously holds a dear impact upon the kids, who, scared and uncertain, worry that Mom and Dad, and the family dynamic as a whole, may be drastically changing very soon and not for the better. 
In the end, it's brother and sister who comfort and console each other, retreating to the safety and security of a child's make-believe world. 
Like life, the real answers are elusive, far and few between; while they're not sure what to believe, they know they miss their parents deeply as they happily once were, feeling a great sense of loss and pain along the way.
Share this with another– and love the one you're with.  More importantly, think of the children who often suffer most when parents don't get along.
* * * * * * * * *
…Please share with others and follow us on Twitter and Facebook