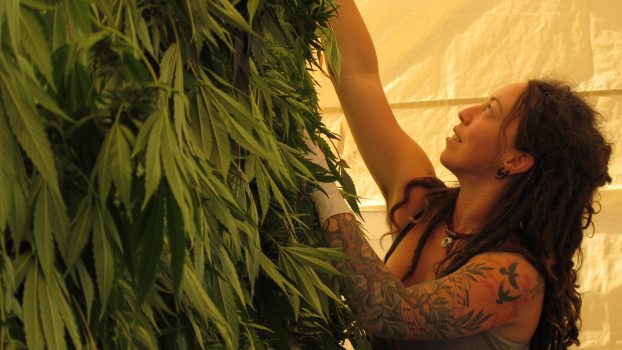 Feature Film Documentary Premiers April 14
Skippy Massey
Humboldt Sentinel
"In Humboldt County, everyone has sticky stuff on their fingers…Every business in this county relies on the marijuana business."
~Grower, One Good Year
One Good Year is all about the Humboldt weed.
While "Humboldt" has become synonymous the world over with high-grade marijuana for both the medical and black markets, the outside world knows little about the farmers themselves and their lives, history, dreams, and hopes for the future.
A feature length documentary in post production relating the inside story of Humboldt's legendary pot-growing culture, One Good Year follows the everyday lives of four medical marijuana growers and their unique community.
Directed by local author, nursery owner, author, and volunteer firefighter Mikal Jakubal, the film is set in the remotely familiar hills where "Humboldt Grown" is well known.  Why did he do it?
As Jakubal explains:
"Humboldt pot farmers maintain one of the last remaining small farming economies in the country, the last of a tradition where people working the land with their hands could still sustain themselves and their families.

This is why we have to show the world the real face of pot farming.  Otherwise, when the inevitable regulation or legalization happens, we'll be excluded by laws based on the paranoid public perception of pot farming as a dangerous,
gangster activity.

As the marijuana economy moves mainstream, we need to keep it democratic and accessible to farmers at any scale.

I think my film will go a long way toward that end by influencing public perception in a positive way."
The outside world knows little about the marijuana growing culture.  One Good Year offers us a peak into it. 
You can expect the premier opening happening next month, on April 14.  We expect it to come closer to home soon for a showing.  Mikal won't let us down.
Film and Photo Credit:  One Good Year, Mikal Jakubal, Vimeo
…Share with others and follow us on Twitter and Facebook