Claude Shannon:  Founding Father
of the Digital Age
Skippy Massey
Humboldt Sentinel
He's the man you never heard of, but should have. 
He was more important to our digital age than the familiar names of  Bill Gates or Steve Jobs. 
He was responsible for what we know today as the digital revolution.  If you're reading this, you have him to thank.  He's the guy who started it all.
Claude Elwood Shannon saw the change that no one saw coming:  the idea that we could take a book, a painting or a song, and send it through cables and wires or even thin air to the other end of the world– and it would be identical on the other side.  And that was back in 1948.
How did we make such a mind bending transition into the digital world?  And how does it work?  It turns out it was all based on Shannon's concept that is surprisingly beautiful in its simplicity.  
The short video above tells us what that idea is in a nutshell,
and about the man who figured it all out.
Considered the founding father of electronic communications age, Claude Shannon was a mathematical engineer whose work on technical and engineering problems in the communications industry laid the groundwork for both the computer industry and telecommunications.
After he noticed the similarity between Boolean algebra and the telephone switching circuits, Shannon applied the principles to electrical systems at the Massachusetts Institute of Technology (MIT) in 1940.
While working at Bell Laboratories in 1942, he formulated a theory explaining the communication of information and worked on the problem of efficiently transmitting information. Shannon's profound mathematical theory of communication— binary code– was the climax of his mathematical and engineering investigations.
The concept of entropy– a degree of uncertainty– was an important feature of Shannon's theory, which he demonstrated to be equivalent to a shortage of the information contained in a message.
The entire science of information theory grew out of one electrifying paper that Shannon published in 1948, when he was a 32-years-old.
Shannon showed how the once-vague notion of information could be defined and quantified with absolute precision.  He demonstrated the essential unity of all information media, pointing out that text, telephone signals,
radio waves, pictures, film and every other mode of communication could be encoded in the universal language of binary digits, or bits– a term that his groundbreaking article was the first to use in print. 
In short, Shannon saw the move from analog information to
a digital one, and with great vision and clarity.
Shannon laid forth the idea that once information became digital, it could be transmitted without error. This was a breathtaking conceptual leap that led directly to such familiar and robust objects as computers, modems, CDs, MP3s, and even HDTV.  Without Shannon, computers and computer science could have been very different.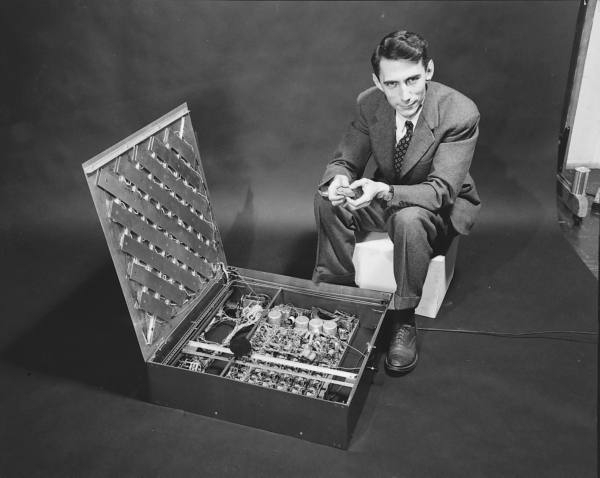 Shannon made many more discoveries and received a slew of prestigious awards, citations, honorary degrees and plaques, including the Nobel Prize, that filled an entire room of his house. 
He didn't care to publish much, had a great sense of humor, and invented a mathematical model for juggling, a juggling unicycle, a device for solving Rubik's Cubes, a chess playing machine that spit out wry comments along with its moves, a 600 foot stair lift to take his kids down to the lake, and a mechanical mouse capable of using stored information and artificial intelligence for navigating mazes and considered to be the first artificial learning device ever
created.  And that's the short list.
Almost as important, as an MIT professor, Shannon taught scores of the nation's brightest students his theories and applications of communication, electric relays, circuits and switches, and applied engineering and electrical mathematics.  His students revered him, and in turn, futhered his ideas by creating and  developing scores of the digital inventions and devices we use and enjoy today.
By1985, however, he and his wife began to notice certain lapses and eccentricities in his behavior.
He would go for a drive and forget how to get home.  In 1992, when the Institute of Electrical and Electronics Engineers was preparing to publish his collected papers, Shannon was disturbed to realize that he couldn't remember writing many of them.  
By mid-1993, with his condition becoming apparent to everyone, the family confirmed what many had begun to suspect.  The once-brilliant genius, inventor, and renowned professor Claude Shannon had Alzheimer's disease.  Later that year, his family reluctantly placed him in a nursing home.
Claude Shannon, the founding father of the information age and the digital revolution, died in 2001.
A fascinating man, his bio can be found at the New York University site here.

Curious?  You can read more about him here or in the Wikipedia entry here.

Even more interested?  Spend a few minutes on this lively piece in Technology Review.

Super interested?  Find out more in this very personal account.
 * * * * * * * * *
…Please share and follow us
on Twitter and Facebook
Thank you for making us the best
little blog in Humboldt.