Tensions Again Erupt in Ferguson–
One Protester Shot; Seven Arrested
Skippy Massey
Humboldt Sentinel
It's only getting worse.
Rioting, looting, shooting and burning down stores.  What we're seeing in the streets of Ferguson, Missouri, is an example of how the streets can quickly descend into chaos as tensions erupt.
The mayhem in Ferguson escalated early this Sunday morning as a man was shot and seven people were arrested following a confrontation between police and protesters who refused to abide by the state mandated curfew.
Authorities have not identified the man but said he was critically wounded by a gunshot.  It is unclear who shot him, but he was injured near an area of the town where protesters had gathered near a restaurant and some people were standing on the roof.  Authorities said it did not appear he was shot by an officer.
Officers from Missouri State Highway Patrol, St. Louis City and County police worked to remove the people from the area and brought armored vehicles and tear gas.  A man with a handgun was spotted in the crowd and another person was reported shooting at a police car.
"I was disappointed in the actions of tonight" said patrol Capt. Ron Johnson, looking weary over the continued violence and escalating tensions rocking the community.
Police had earlier pledged they would not use such tactics but Johnson said they were worried about officers' safety.
"Tonight's response was a proper one," he said, adding that he was "disappointed" that rioting continued.
The crowd, which is continuing to protest the fatal shooting of black 18-year-old Michael Brown by white Ferguson officer, Darren Wilson on Aug. 9, refused to comply with the curfew chanting "No justice! No curfew!"
Police have not announced information about Wilson.  He wrote on his Facebook page Saturday that he had to deactivate it the day before due to a number of threats.
"I can't share much at this point but the media is going too far invading my family's privacy," he wrote.  "I am concerned for their safety."
He also wrote Friday he was "overwhelmed" by kind words and prayers people had been sending him.  "This is a very difficult time for all people involved and I am trying to have faith that the right outcomes will be reached for the community," he wrote.  "I am sorry that I cannot answer all of your messages but hope you understand. Continued prayers for all are appreciated."
When police informed the crowd they were in violation of the state mandate, the crowd refused to disperse and officers fired smoke and tear gas canisters at the citizens.  The mandate was imposed by Missouri Gov. Jay Nixon on Saturday from midnight to 5 a.m.
But the tensions between the people and local police seem to only escalate.
"They got guns.  We got guns.  We are ready," said Jayson Ross, who was leading the protesters toward police before the canisters were fired.
As canisters flew through the air about 50 minutes into the curfew, a protestor hurled a Molotov cocktail at the side of a local store and ignited a small fire.
Clouds of smoke had filled the street when a group of other protesters raced toward the store, Chop Suey, and stomped out the fire.
Cops in riot gear were hanging back as the demonstrators slowly advanced along W. Florissant Ave. at about 12:30 a.m. local time.
But 15 minutes later, cops threatened to move in.
"This is the police," an officer announced into a bullhorn.  "You are violating the state-issued curfew.  You must disperse immediately or you will be subject to arrest."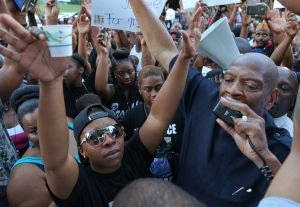 The dangerous scene occurred hours after the governor was heckled at a press conference at a church where he announced the curfew.
A group of Black Panthers were seen leading protesters in a chant calling for his head.
"What's his name?" they shouted.
"Darren Wilson," they replied.
"How do we want him?" they shouted.
"Dead," several protesters replied.