Heavily-Armed Suspects on the Run
– UPDATED –
Skippy Massey
Humboldt Sentinel
The Parisian police net is closing in quickly.
A massive manhunt for the perpetrators of France's worst terrorist attack in generations shifted to the countryside north of Paris on Thursday.
Commandos and helicopter patrols poured into villages following reports that the two main suspects — both heavily armed — were spotted on the run.
Tensions mounted in France on Thursday after the killing of another police officer in Paris and reports that two gunmen sought in a nationwide manhunt robbed a gas station in the northern part of the country.
As France awoke to the aftermath of its deadliest attack on home soil in decades, a national day of mourning was marked with flags flying at half staff and crowds gathering at some of the country's best-known monuments at noon for a minute of silence.
The memorials came as authorities hunted for the gunmen who a day earlier had launched a deadly attack against the Paris offices of satirical magazine Charlie Hebdo during an editorial meeting, killing 12 people, including the magazine's editor, several well-known cartoonists and two police officers.
Police said they are searching for Said Kouachi, 34, and his brother Cherif, 32.  In 2008, the older sibling was convicted on terror-related charges for recruiting fighters for the insurgency in Iraq during U.S.-led military operations there.
Paris prosecutors said they received an unexpected break in the case early by finding the national identity card of Said Kouachi in an abandoned getaway car, media reports said.
Hamyd Mourad, 18, reportedly turned himself into authorities late Wednesday after learning he was being sought as a suspect.
"Hamyd Mourad handed himself in to police … on Wednesday at 11:00 pm after seeing his name circulating on social media," the news service Agence France-Presse reported. "He has been arrested and taken into custody."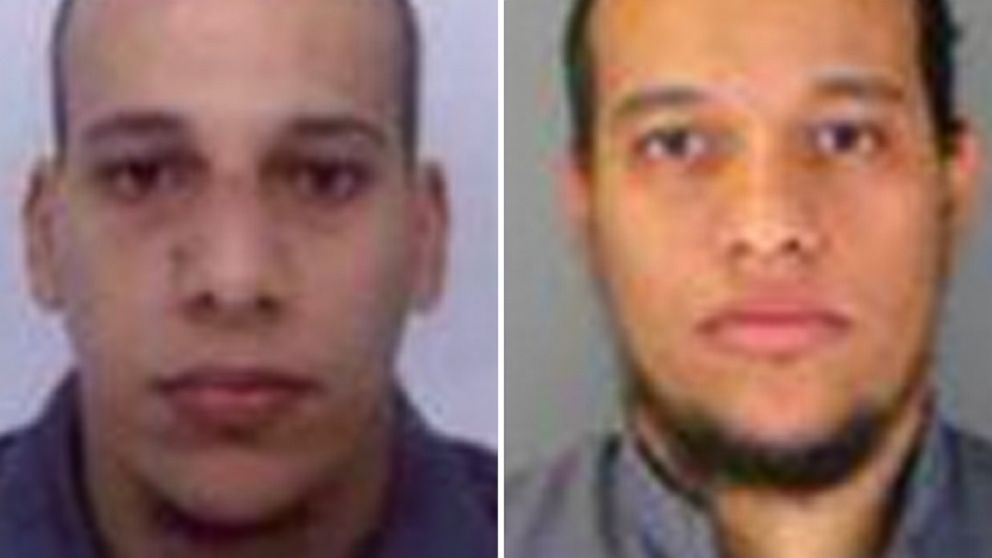 The two Kouachi brothers reportedly robbed a gas station in the north of France early Thursday, according to French media, and the scene has since been cordoned off.
There were conflicting reports about the sighting.  Some said they were heavily armed and stole food and gas before getting in a Renault Clio and driving in the direction of Paris.  Other reports said the men were armed with Kalashnikov rifles and rocket-propelled grenade launchers.
Also Thursday, a female trainee police officer was shot to death while investigating a car accident, but it was not immediately clear if the shooting was linked to Wednesday's killings.  The incident, which also left a street sweeper injured, took place in the Montrouge neighborhood in the south of Paris.
France's Le Monde newspaper said the gunman in that attack had two weapons, immediately fled and remained at large.
There were also reports that a mosque in Le Mans, southwest of Paris, had come under grenade and gun attack.
Meanwhile, tense Parisian mourners gathered to honor those killed in Wednesday's attack.  Thick gray clouds hung low in the sky and residents hurried around under umbrellas with their heads low.
Hundreds gathered in front of the historic Notre Dame cathedral, where the bells chimed to mark the moment of silence.  The somber crowd fell quiet, then broke into spontaneous applause as the 60 seconds ended.
Outside the National Assembly, people huddled together under umbrellas in the relentless drizzle.  President Francois Hollande stood on the steps in the courtyard, facing rows of police standing at attention.
Nearby, four women stood under umbrellas holding hands.  
Another man stood with his fist held high in the air against a backdrop of four flags that had been lowered to half-mast.
The Metro halted service for a full minute, and across the city, some newsstands put up black posters with the words #JeSuisCharlie, French for "I Am Charlie," to show solidarity with the slain journalists.
~Via Christian Science Monitor, LA Times, Washington Post, New York Times
UPDATE: Friday January 9:
Two simultaneous hostage-takings in France today are linked, with suspected gunmen in each situation connected and knowing one another.
Amedi Coulibaly, 32, a suspect in a Thursday fatal shooting of a police officer in Paris' Monrouge area, is believed to be involved with a hostage standoff at a kosher grocery, police said. 
Explosions and gunfire were heard inside the grocery store and two individuals are believed dead.
Cherif Kouachi and his brother Said Kouachi are the suspected gunmen barricaded in a printing company in a town northeast of Paris, taking one male employee hostage.
A fluid situation developing minute by minute, more details can be found here and here.
UPDATE:
French security forces have stormed the sites of two hostage-taking standoffs.  The terror suspects, the Kouachi brothers and Amedia Coulibaly,  are dead at both locations.  Four hostages also died.