Reality TV Stunt Brings Attention and Criticism To the Plight of the Amazon
Skippy Massey
Humboldt Sentinel
We all have goals.
When Paul Rosolie wanted to focus attention on the destruction of the Amazon rainforest, he decided he needed a stunt guaranteed to get people looking.  For the past two years, the naturalist and author had a goal that no man in the history of the world has ever had:  to be eaten alive by a giant green anaconda.
So the staunch environmentalist offered himself as dinner to the monster snake — and was swallowed alive, filming every moment.
Anacondas, the largest snakes in the world, typically suffocate their prey before ingesting it, making Rosolie's attempt the first of its kind and very dangerous.
Rosolie survived, and people all around the world got to see the harrowing journey on Sunday night into the belly of the beast.  The two-hour special, Eaten Alive, aired on the Discovery Channel and was widely criticized by animal activists.  Rosolie, author of the widely praised eco-adventure book Mother of God, was slammed as a snake-torturing opportunist.
The idea came to him after a decade spent working in, and working to save, the rainforest habitat, Rosolie said.
"Everybody on Earth knows that the rainforests are disappearing and most people can tell you how important they are, but still, not enough people are paying attention, not enough people realize this is such a problem."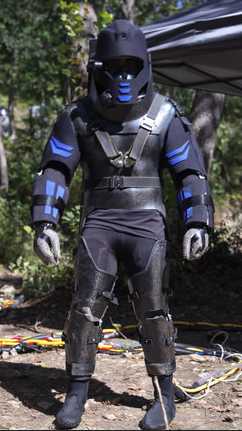 The American activist said he was proud to take on the adventure, even though the prospect of dying was hard to swallow.
To avoid suffocating, his team of experts crafted Rosolie a specially designed carbon fiber suit, equipped with a breathing system — as well as with cameras and a system to communicate.
"We didn't know if this was going to work, if I was going to be eaten, but we made sure that if I did make it inside the snake, I wouldn't suffocate," Rosolie explained after the ordeal.
The next challenge was trying to find a snake in the Peruvian Amazon jungle. 
Rosolie and a camera crew spent eight weeks in the Amazon seeking a hungry anaconda and along the way encountered piranhas, electric eels, giant crocodiles and other deadly creatures.
"We spent 60 days out in the jungle, camping, hiking, looking through swamps every night," Rosolie said.  "During our expedition in the Amazon, several times we encountered this anaconda with the girth of an oil drum.  The problem was we couldn't restrain it.  There was no way to capture this snake.  We had a 10-person team and they couldn't hold onto it.  That started spooking us — it was 26 feet and 400 lbs.  We decided to test the suit on a more normal-sized snake."
 Eventually, they found a female snake, which at 20 feet long, fit the bill.
"When I went up to the snake, it didn't try to eat me right away," Rosolie recounted.  "It tried to escape.  And when I provoked it a little bit, and acted a little more like a predator, that's when it turned around and defended itself."
The explorer was swallowed head first and spent more than an hour inside the giant snake, adding that he kept in touch with his team the whole time.  He said he was scared that something would go wrong, but at the same time, "I was very excited to do it."
"You are going up against one of the greatest predators of the planet and doing something that no one has ever done before," he said.  "Everybody says an anaconda can't eat a human, that it's physically impossible.  I've seen an anaconda break a wild boar in half.  I've seen an anaconda constrict a black caiman, which is a crocodile that grows up to 15 feet.  Anacondas eat animals much bigger than humans.  Once you crush a human ribcage — squeezing before they eat — we're much smaller than some of the animals they're eating, Rosolie said.
"And I know of people who have been eaten.  The cook who tours with us in the Amazon — his father was eaten by an anaconda.  So it's not a myth.  When you're in these small villages and your mom gets eaten by an anaconda, they're not running to get a camera."
He did not give details on how he was freed from the snake, but insisted his team was careful not to harm it and that he was the only one in danger.
"We didn't force the snake to do anything, we didn't ask from the snake anything out of the ordinary," Rosolie said, explaining that "snakes very often regurgitate if they're eating something and a predator comes by, they have to give up their meal so they can escape."
The anaconda is now doing well, he said.  But Rosolie faced fierce criticism from animal rights groups, including from PETA, who said "the snake was tormented and suffered for the sake of ratings."
Rosolie said he even received death threats.  But he wasn't fazed, saying the shock value is important to increase attention to his cause of the Amazon's plight.  As he explained it:
"I've worked in the Amazon for 10 years, as well as India and Indonesia and other places, and it all goes back to the loss of biodiversity, plants and animals.  
I'm seeing the Amazon disappear.  I've seen entire 1,000-mile stretches of rainforest burnt to the ground where every single plant and animal is destroyed — and no one pays attention to that.  I've seen scientists spend their entire lives trying to rally public opinion and support, and people just don't care.
Anacondas, as an apex predator, are a part of that.  I said, 'I want to do something completely crazy.'  I've studied anacondas for years.  They're a misunderstood species.  People hunt them and kill them.  And I said I wanted to do something that's going to grab people by the eyeballs. 
So I wanted to do something that would sort of shock people and force a dialogue about what's going on here — and it's working.  People all over the world have been calling me saying they hope I get Ebola, that they hope I die, that they think I'm heinous and inhuman and horrible, and that I'm "the Hitler of animals."
People care about animals.  They don't make the jump to caring about the habitat the animals live in. 
What's interesting is that PETA has something like 40,000 signatures protesting Discovery's special from people who care about a snake — which is awesome.
But those people don't realize this is one snake– when there are millions of snakes and other animals that are being incinerated right now.
Yet a petition to protect the standing Amazon rainforest has — wait for this — 159 signatures."
A fund linked to the show was set up to raise awareness and money to protect the Amazon and allow for more research of anacondas in their habitat.  After the US showing, Eaten Alive will air around the world.
The Discovery Channel said it expected at least three million viewers in the United States and a million more from around the world.  They got the views alright, except the stunt didn't go as planned and viewers and critics alike were disappointed Roaslie didn't get eaten alive after all.
~Via Paul Rosolie, Discovery Channel, EW, YouTube, and Times of India