Southern Californians Thirsty– and Buying– Water at Record Rates
Get Ready, Humboldt
Skippy Massey
Humboldt Sentinel
Cash is king.  And so is the water.
California farmers plan to sell water instead of crops– because they can get more money for it.
The rice industry in the Sacramento Valley is taking a hard hit with the searing drought.  Some farmers are skipping out on their fields this year, because they are cashing in on their water rights instead.
Many fields will stay dry because farmers will be doing what was once considered unthinkable: selling their water to dry Southern California.
"I will probably make more money doing the transfer than I will by actually growing a crop," said Jim Morris, communications manager for the California Rice Commission, a group representing the state's farmers.  Morris said it was too soon to say how many would end up participating in water transfers.  Last year, when the drought was slightly less severe, rice production declined 25 percent.
"It's something we're watching," he said.  "It's a reflection of four years of drought… there's just an insufficient amount of water for all needs in the state."
"In the long term, if we don't make it available we're afraid they'll just take it," said Charlie Mathews, a fourth generation rice farmer with senior rights to Yuba River water.
He and his fellow growers have agreed to sell 20 percent of their water allotment to Los Angeles's Metropolitan Water District as it desperately searches to add to its dwindling supply.  They are also afraid that if they don't sell it, Southern California will simply abscond with it, through legislative or voter referendum.  If one doesn't think that could happen, take a look at the example of nearby Mono County; a small and powerless county that lost its rights to the vast majority of its water to its ever-growing and thirsty neighbor to the south.
It's not really surprising that Southern California is looking for a place to buy water.  But what is making news is how much they've agreed to pay for it: a record $700 per acre foot of water.
In 2010 the going price for water was $244 per acre foot.  Just last year, rice farmers were amazed when they were offered $500 for the same amount.  This new $700 price is a gamechanger and means growers will earn a lot more money on the fields they don't plant, making water itself the real cash crop in California.  The price of water has already risen 30 percent in 12 months.
"It's much more than we ever expected to get.  But at the same time, it just shows the desperation of the people that need it," Mathews said.
The ripple effect of this will be felt around the entire state.  If a Bay Area water district needs to buy more water, it will now be competing with the Los Angeles Metropolitan Water District to do it, a district that stretches from Los Angeles to San Diego County.
"They have to pay whatever is the last price, and the highest price, that people will pay," Mathews said.
"We're going to make a lot more selling the water than planting the rice," Lance Tennis, whose family owns about 900 acres of farmland in southern Butte County, about 80 miles north of Sacramento, said on Tuesday.  "This is a huge deal."
And the trend of buying water may extend to Northern California and Humboldt before much longer as the fourth year of record drought continues.  Desperate for water, county and city municipalities are getting nervous– but haven't hit the panic button quite yet.
Recent data released by NASA satellites have shown that the total amount of water stored in the state's reservoirs leaves thirsty consumers with only a year's worth of supply.  Groundwater— another key resource for Californians— has also been rapidly drying up.
And Los Angeles would rather use the water than have to conserve it.  Last summer, California water regulators passed statewide restrictions against water-wasting practices like excessive lawn watering and driveway hosing.  The restrictions included a provision that allowed local communities to practice enforcement via warning letters and, in the worst cases, a fine up to $500.
Unfortunately, the measure has been a real drought of enforcement, with municipalities ignoring the restrictions.  A survey by the Associated Press discovered that few localities are doing much, if anything, at all.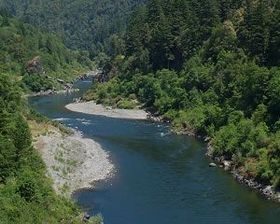 Los Angeles has only issued two $200 fines– and it services some 4 million people.  The desert city of Coachella in Riverside County hasn't sent out a single warning letter— while homes in the city's many gated communities continue to sport deep green lawns.
Get yourself ready and prepare thyself, Humboldt County. 
The new water carpetbaggers, with their desire for ever more water, will be heading North to Humboldt to purchase— or steal— the most precious liquid resource we have available in abundance.