And the Little Guy Caught in the
Crosshairs of Presidential Power
Skippy Massey
Humboldt Sentinel
A silly misunderstanding can have its consequences. 
Especially when you're the innocent subordinate.
How would you feel if the president of the United States– your Commander-in-Chief– publicly referred to you as a "Silly Bastard" and wanted you shipped to Alaska?
Fifty years ago, John F. Kennedy and his wife Jackie were expecting a baby.  In Washington, this was no problem as there were plenty of medical facilities to care for them.  In Hyannis, MA, however, the closest medical facility for the President was located at Otis Air Force Base, 17 miles away.
On July 24, 1963, The Washington Post reported that the Air Force spent over $5000 to refurbish a very poshy room especially for Jackie's maternity suite, just in case.
Their article reported all the furniture was purchased at the upscale store of Jordan Marsh.  As it turned out, the story was greatly exaggerated, but it picked up speed in the nation's media nonetheless. 
So JFK placed a salty phone call to the Air Force General at the Pentagon, demanding some answers as to how the financial fiasco and public relations disaster happened in the first place.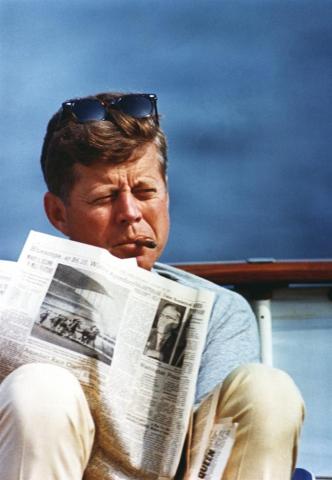 While looking at a Washington Post photo of Ernest Carlton standing next to a bed at Otis Air Force Base, JFK went into a scathing rant, referring to him as a "Silly Bastard" and saying the whole incident was a "Fuck Up" destined to hurt the Air Force budget negotiations with Congress.  
JFK ended the call saying the "Silly Bastard" should to be transferred to Alaska because he wouldn't have enough sense "running a cathouse." 
In the end, it was all much ado about nothing.
The Silly Bastard Next to the Bed is Scott Calonico's seven-minute documentary short revealing an inside look at JFK's presidential rant and the executive power and privelage of pulling rank.
And Ernest and Velma's reaction 50 years later?
Well,  you can read that here.
~Via Scott Calonico, Awesome Stories, Lance Around Orlando, Vimeo

Thank you for making us the best
little blog in Humboldt.
…Please share and follow us
on Twitter and Facebook