The Sneaky Peak Preview
Skippy Massey
Humboldt Sentinel
Hobbit fans rejoice.
Academy Award-winning filmmaker Peter Jackson is finally releasing his long-awaited The Hobbit: The Desolation of Smaug, the second in a trilogy of films adapting J.R.R. Tolkien's enduringly popular masterpiece on December 13, 2013.
The three films tell a continuous story set in Middle-earth 60 years before The Lord of the Rings, which Jackson and his filmmaking team brought to the big screen in the blockbuster trilogy culminating in his Oscar-winning The Lord of the Rings: The Return of the King.
The Hobbit: The Desolation of Smaug continues the gullible adventure of Bilbo Baggins as he dimwittedly journeys with the Wizard Gandalf and thirteen Dwarves, led by Thorin Oakenshield, on an epic quest to reclaim the Lonely Mountain and the lost Dwarf Kingdom of Erebor.
Having survived the beginning of their unexpected journey, they encounter the skin-changer Beorn and a swarm of giant spiders in the treacherous forest of Mirkwood.  Escaping capture by the dangerous Wood-elves, the Dwarves journey to Lake-town and finally to the Lonely Mountain itself, where they face the greatest danger of all — a creature more terrifying than any other: one which tests not only the depths of their courage, but the limits of their friendship and the wisdom of the journey itself– the Dragon Smaug.
Lesser individuals would've turned back a long time ago, but let's face it.  This is Bilbo.  Bilbo isn't exactly the brightest crayon in the Hobbit box.
Ian McKellen returns as Gandalf the Grey, with Martin Freeman in the central role of Bilbo Baggins, and Richard Armitage as Thorin Oakenshield.  Of course, there's many more to the cast of minions, scads of armor and weapons used and abused, and a dramatical musical score highlighting the perilous Odyssean journey throughout.
Under Jackson's direction, the film was shot with special effects galore in 3D 48 frames-per-second and will be released in High Frame Rate 3D (HFR 3D) in select theaters, and IMAX.  Production of the epic fantasy flick took place at Jackson's facilities in Miramar, Wellington, and on location around New Zealand.
The way Hobbit fans see it, if Jackson's latest film doesn't give you spinal chills, you simply aren't human.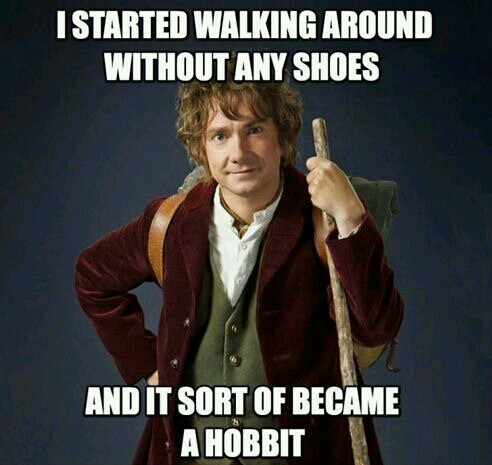 If you liked this post or others, please consider sharing them.