Hostage Siege Ends With Attack, Gunshots
Skippy Massey
Humboldt Sentinel
It's over.
Australian security forces on Tuesday stormed the Lindt Chocolat Cafe in Sydney where several hostages were being held at gunpoint, in what looked like the dramatic ending to a standoff that had dragged on for more than 16 hours.
Heavy gunfire and loud bangs rang out shortly after 2 a.m. local time today, and moments earlier at least six people believed to have been held captive had managed to flee the scene.
Australian state broadcaster ABC reported that three people were dead and four others were wounded and in serious condition.  Police said the three people killed were the gunman and two of the hostages.
It is unknown whether the two hostages who were killed, a 34-year-old man and a 38-year-old woman, were caught in crossfire, or shot by the Iranian-born gunman.  Among the four wounded was a police officer shot in the face.
Medics moved in and took away seven injured people on stretchers, but it was not clear whether they included the gunman.  He was identified as Man Haron Monis, an Iranian refugee and self-styled sheikh facing multiple charges of sexual assault.  Local media reported that Monis, who was known as Manteghi Bourjerdi before he changed his name, was 49 or 50 years old.
Chris Reason, a correspondent for CNN affiliate Seven Network, said the gunman became "extremely agitated" when he realized what had happened and "started screaming orders" at the remaining hostages.
Reason said he could see the gunman pacing past the cafe's windows from his vantage point at the network's nearby offices.  He described the man as unshaven, wearing a white shirt and black cap and carrying a shotgun.
The gunman demanded a flag and phone call through hostages who contacted several media organizations, Sky News Australia reported.
Monis, also known as Sheikh Haron, was found guilty in 2013 of sending offensive and threatening letters to families of eight Australian soldiers killed in Afghanistan and calling them "Hitler's soldiers," as a protest against Australia's involvement in the conflict, according to local media reports.
He was also charged with being an accessory to the murder of his ex-wife.  Earlier this year, he was charged with the sexual
assault of a woman in 2002.  He has been out on bail on both
of the charges.
"This is a one-off random individual.  It's not a concerted terrorism event or act.  It's a damaged goods individual who's done something outrageous," his former lawyer Manny Conditsis told the Australian Broadcasting Corp.  "His ideology is just so strong and so powerful that it clouds his vision for common sense and objectiveness," Conditsis said.
He was believed to be acting alone and does not appear to be part of a broader plot, US law enforcement said Monday.  Beyond the demands for the flag and phone call, precisely what he wanted remained murky late Monday.
During the siege, hostages had been forced to display an Islamic flag, igniting fears of a jihadist attack.  The black flag with Arabic writing read, "There is no God but God and Mohammed is the prophet of God."
At least six hostages were either released or had escaped, with terrified cafe workers and customers running into the arms of paramilitary police.
Fifteen or so hostages were understood to have been holed up inside the cafe, said Chris Reason, a reporter at Channel Seven, whose office is opposite the cafe.
The incident forced the evacuation of nearby buildings and sent shockwaves around a country where many people were turning their attention to the Christmas holiday following earlier security scares.
In September, anti-terrorism police said they had thwarted an imminent threat to behead a random member of the public and days later, a teenager in the city of Melbourne was shot dead after attacking two anti-terrorism officers with a knife. 
Tough anti-terror laws were passed by the Australian parliament in October in response to the threat of homegrown extremism.
The siege cafe is in Martin Place, a pedestrian strip popular with workers on a lunch break, which was revealed as a potential location for the thwarted beheading.
"We're possibly looking at a lone wolf who has sympathies to global jihad or someone with mental health issues in search of a cause," said Adam Dolnik, a professor at the University of Wollongong who has trained Sydney police in hostage negotiations.  "This is all about attention."
In the biggest security operation in Sydney since a bombing at the Hilton Hotel killed two people in 1978, major banks closed their offices in the central business district and people were told to avoid the area.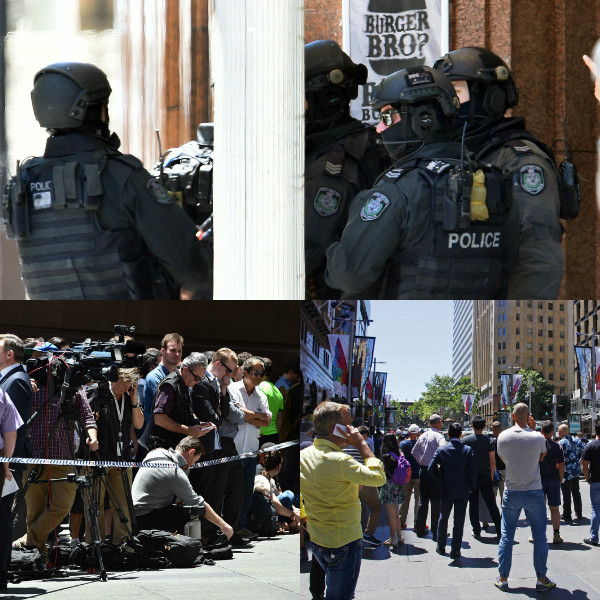 Australia, a staunch ally of the United States and its escalating action against the Islamic State group in Syria and Iraq, earlier this year raised its domestic terror threat level from medium to high, mainly due to concerns about home-grown extremists.
About 70 Australians are thought to be fighting for militant groups in the Middle East.
A number of Australian Muslim groups condemned the hostage-taking in a joint statement and said the flag's inscription was a "testimony of faith that has been misappropriated by misguided individuals."
~Via Google News, ABC, Seven Network, WRAL, Reuters