The European Space Agency Gambles Big
Skippy Massey
Humboldt Sentinel
"Ambition" really took us by surprise.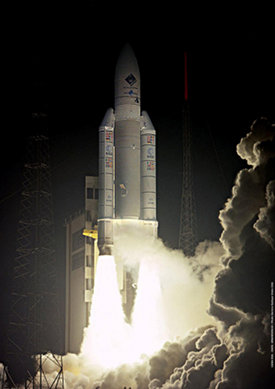 Made in collaboration by the European Space Agency (ESA)—the European equivalent of NASA—it is remarkably unlike any other film NASA has ever done for its own space missions.
It is definitely something out of the ordinary: a big-budget-style sci-fi movie directed by Tomek Baginski with famous actors, such as Aidan Gillen of Game of Thrones fame, and a subtle yet powerful message relating to the Rosetta mission.
On November 12th, something spectacular will happen in space history.  The Rosetta spacecraft, launched back in 2004, will drop its Lander onto the surface of comet 67P. 
Part of what has been so impressive is the length of time this mission has taken to finally get to the comet– 20 years since the planning began, and ten years since its launch.
It is a complex mission.  Rosetta could not head straight for the comet.  The remarkable feat of the Rosetta spacecraft is that it has been ping-ponging its way through the solar system, beginning a series of looping orbits around the Sun that brought it back for three Earth fly-bys and one Mars fly-by.  The mathematical calculations alone were mind boggling.  
Each time, the spacecraft changed its velocity and direction as it extracted energy from the gravitational field of Earth or Mars and then spiraled out on different trajectories to eventually meet up with comet 67P– a decade later.
Rosetta, reaching the bizarrely shaped rubber-duck icy comet, has spent the last three months mapping its surface in the hope of finding a suitable spot to place its Lander. 
It is the first time a spacecraft has entered into orbit around a comet, which is a celestial body formed during the Big Bang– and with almost no gravity.
The Philae Lander– packed with a science laboratory, harpoons, scrapers, computers, and even ovens – will obtain samples, do analyses, and beam the information back to the earth about the basic origins of the universe.  The hope is that Rosetta mission will help answer some of the most basic questions about our existence.
When the Lander touches down seven hours after its release on November 12, all manner of things can go wrong.  The gravity of 67P is so small the Lander could hit the surface, bounce off and be lost in the vast emptiness of space.
Rosetta is truly a milestone of mankind's achievement.  And, in order to succeed, it's a mission taking a true amount of… Ambition.
~Via ESA, Vimeo, PhyOrg
If you enjoyed this film, you may like our other post:  Genesis