(War is Over)
Skippy Massey
Humboldt Sentinel
In the 1960s The Beatles delighted their fan club members by sending them
a specially recorded 45rpm single every Christmas filled with comedy, music
and festive fun.
The following decade the Christmas single as we know it– a one-time seasonally themed hit—had arrived.
Fittingly though, it was ex-Beatle John Lennon who changed the whole Christmas game.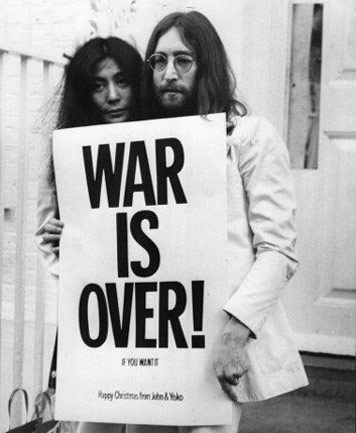 Lennon was born October 9, 1940, at a time when World War II was raging across Europe.  Liverpool was under attack, bombed by Nazi Germany when John was born.  The rest, as you know, is history.
Sung by John and Yoko Ono and accompanied by the Harlem Community Choir, Happy Xmas (War Is Over) was released in the States on December 6 of 1971.  It was released in Britain the following year, and again following Lennon's death after being violently gunned down outside of his New York City apartment on December 8, 1980.
The Vietnam-inspired sing-along was the culmination of more than two years of peace activism undertaken by the couple that began with the bed-ins they convened in 1969, the first of which took place during their honeymoon. 
President Nixon had said at the time that the Vietnam War would soon be ending "as a result of the plan that we have instituted."  In April 1970, however, he had expanded the war by ordering US and South Vietnamese troops to attack communist sanctuaries in Cambodia and Northern Vietnam.  The resulting outcry across the United States led to a number of antiwar demonstrations– and during one of these demonstrations the National Guard shot four protesters at Kent State.
The couple had launched an international multimedia campaign preceding the song in December of 1969 – at the height of the counterculture movement and the massive protests against America's involvement in the war– by renting billboard spaces in 12 major cities around the world for the display of black-and-white posters declaring, "WAR IS OVER!  –If You Want It– Happy Christmas from John & Yoko."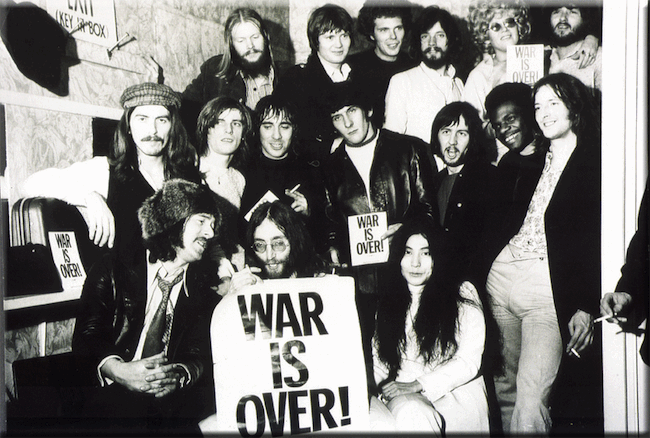 Lennon said he conceived the antiwar campaign to promote social unity, peaceful change, personal accountability and empowerment, and writing the happy holiday tune to convey a sense of optimism but without the glowing sentimentality typically associated with the holiday music season.
"I was sick of White Christmas," he said, and "I wanted to pen the peaceful anthem using the lyrical lesson I learned while recording Imagine.  I understood what you have to do:  Put your political message across with a little honey.'"
By the time Happy Xmas (War Is Over) was released, Lennon's antiwar activism had brought him under the scrutiny and ire of the Nixon administration and the FBI.  Lennon had already returned his "Member British Empire" medal back to Queen Elizabeth, citing Britain's support of US troops in Vietnam and its own involvement in Biafra.  He was involved in so much radical activity in the US that the FBI had 216 pounds worth of files about him. 
In 1972 he received his ignoble payback– a deportation order to leave the United States.  It was later stayed due to his broad popular support and the issuance of a green card for US residency. 
By 1973, the Vietnam War was grossly unpopular.  After extensive negotiations and the bombing of North Vietnam in December 1972, the Paris Peace Accords were signed in January of 1973.  The war was finally over– after nearly 20 years of US involvement.
Yoko Ono later wrote:
"Never in a million years, did we think that promoting world peace could be dangerous.  Were we naive?  Yes, on that account, we were.  
John said:  'Nobody told me there'd be days like these.'  That was his true confession.  These songs have become relevant all over again.  It's almost as if John wrote these songs for what we are going through now."
Among the many items Yoko donated for an exhibit at the Rock and Roll Hall of Fame following his death were the bloodstained glasses he was wearing when he was shot.   Lennon was legally blind without them.
Yoko refused to hold a funeral for Lennon.  By not doing so, she said, "his spirit would live forever."