Many Small Aftershocks Following
(UPDATED) 
From the USGS website moments ago:
A 6.9 magnitude earthquake rattled Humboldt at 10:18 pm on March 9, 2014. 
The quake originated 77 kilometers West/NorthWest of Ferndale.
UPDATE:
12 minutes later, a second 3.4 earthquake struck 26 km
Southwest of Ferndale, @ 10:32 pm. 
A third quake– measured at 3.5– hit 77 km North/Northwest of Ferndale @ 10:41 pm; this was followed by
a fourth quake measuring @ 3.4 at 10:43 pm, centered 67 km West of Ferndale.
Eight more quakes in a cluster have followed.
As of 12:32 am March 10, there has been one large earthquake and 10 lesser aftershock quakes of varying degrees.
There have been no reports of major damage in the county, including road damage as reported by Caltrans.  The quake was felt as far away as Willits.  The USGS report a greater than 90% chance of a 5.0 aftershock or bigger in the next week.
Residents may want to stay atop of the news and the USGS website data
UPDATE: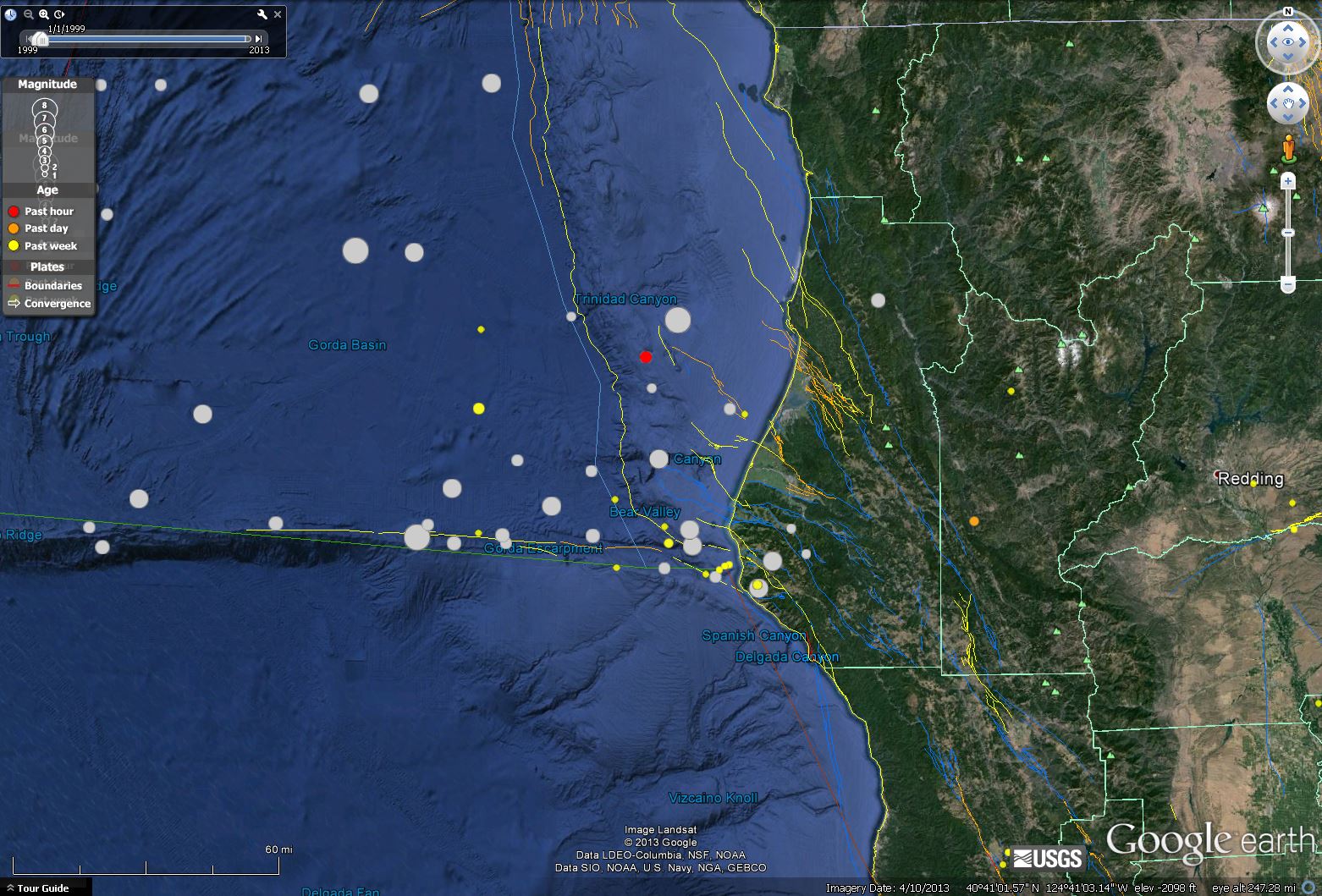 It was a whopper. 
Fortunately, it rattled nerves more than it did property.
A very strong offshore earthquake shook and rattled the Northern California coast and was widely felt across the region Sunday night.
There were no reports of any injuries or damage, local authorities said.
The 6.9 magnitude quake struck at 10:18 p.m. PDT Sunday amid heavy rainfall.  Centered about 50 miles west of Eureka and 4 miles beneath the Pacific seabed, the large quake was followed by a series of twenty aftershocks, including several between the magnitude of 3.5 – 4.6, the US Geological Survey (USGS) said.
There was no danger of a tsunami as a result of the earthquake, the National Tsunami Warning Center reported.
Widely felt across the region, Humboldt fire and sheriff's authorities said there were no reports of any damage or injuries early this morning.
More than 3,000 people reported on the USGS website that they felt the quake.  Some reported a long, rolling shake waking children or knocking items off shelves.  Some of those reporting on the site said they live in Oregon across the border.
"We had some alarms go off and other than that we dodged a bullet," Humboldt County Sheriff's Lt. Steve Knight told the Times-Standard news this morning.
"This lasted longer than any earthquake I've ever felt," one resident, who lives about a mile from the coast in Ferndale near Eureka, told The LA Times.  
"It just kept going and going, very slowly and softly.  It was not violent.  It almost felt like you were in a boat that was rocking," she said.  "The quake felt like it lasted about 20 or 30 seconds."
"The animals, they felt it," she said. "My two horses were running around out by the barn, and my dogs, six dogs, were ready to get out of the house."
Others, however, reported the earthquake was more than a moderate trembler.  "I'm tired and terrified of this," another resident said.  "I've had it.  This is too much.  I thought my house was going to fall down into a pile of sticks.  It went on for what seemed like forever."
Earthquakes are not unusual in Eureka.  The area experienced a magnitude 7.2 earthquake in 1992 that left 95 people injured and caused millions of dollars in damage.  That earthquake was felt as far south as San Francisco.
It was followed by a magnitude 6.5 earthquake about 12 hours later, and a magnitude 6.7 earthquake a few hours after that.  Both caused additional damage.
The area had a 5.6 magnitude earthquake in February, 2012 that did not cause serious damages or injuries.  An offshore magnitude 6.5 quake struck offshore in 2010, breaking glass in some buildings and causing bumps and cuts among residents.
Given than Humboldt County is prone to earthquakes and faces tsunami, flooding, power outages and windstorm threats from time to time, local residents should be prepared. 
It's time to once again review your emergency plans and evacuation routes, restock batteries and emergency kits at home, have cell phones and emergency lights ready with alternative capabilities for recharging available, and know how to shut off power and gas lines to your residence.
The good news?  The drought plaguing the rest of California has bypassed Humboldt.
* * * * * * * * * *